Courses
Connecticut Impressionism, Florence Griswold Museum
This full-day program will take place at the internationally-known home of the Connecticut impressionists, the Florence Griswold Museum, on the banks of the Lieutenant River. It will coincide with their exhibition The Artist in the Connecticut Landscape, drawing from the museum's Hartford Steam Boiler Collection and that of ten partner institutions from around the state. Some of the most renowned depictions of Connecticut from the 18th to the 20th centuries will be on display. The day begins with a curator-led tour of the exhibition in the Krieble Gallery, followed by a lecture by Mr. Friswell on, The Origins of Connecticut Impressionism in 19th-Century European and Asian Artistic Styling. Box lunches will be offered on site, followed by a curator-led tour of Miss Griswold's adjoining, newly-restored homestead and gardens—a home-away-from-home for artists from the period, and the site of so many motifs and setting associated with early 20th-century American painting. A tour of the grounds will then be provided by a landscape historian, pointing out natural features and surroundings little changed since first interpreted on canvas one-hundred years ago. Throughout the day, students will be encouraged to take pictures of the grounds, gardens, and each other in classic impressionistic style, for posting later on a social media site. The day begins with a prompt departure by bus from Allbritton Center, 222 Church Street at 9 a.m. (check in begins at 8:45 a.m.), with the return scheduled to leave the museum at 3:30 p.m. with arrival to Allbritton at 4:00p.m.



Instructor: Richard Friswell
Saturday, November 14: 9 a.m.–4 p.m.: $125
The Florence Griswold Museum
Old Lyme, Connecticut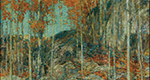 Richard Friswell has a master in education from Boston University and MPhil from Wesleyan ('14), where he was awarded the Rulewater Prize for interdisciplinary scholarship. He is publisher and managing editor of ARTES magazine, an international fine arts e-magazine; an elected member of the Association Internationale des Critiques d'Art, American Section, one of only 450 in the U.S.; an award-winning writer, with two national medals from FOLIO: Magazine for his editorial contributions in the field of art journalism; as well as numerous exhibition and print publications to his credit. Originally from a business background, he has dedicated the last two decades of his career to visual arts and cultural history, with a particular focus on Modernism.