Events
Each year the Center organizes events and programs that enrich the offerings of the African American Studies Program. The Center's programming deepens campus and community conversations about contemporary and historic matters relating to African American Studies and the African diaspora.
The CAAS Distinguished Lecture series, launched in 1994, has brought to campus individuals known for their influential writing, inspiring activism, demonstrated leadership, and fearless community engagement. Past speakers have included Congressman John Lewis, Civil Rights leader Julian Bond, historian Robin D.G. Kelley, scholar of public policy and law Dorothy Roberts, and university professor and author Cheryl LaRoche. 
The Center often cosponsors events with student organizations as well as departments, programs, and center colleagues. Join us for our lecture series, symposia, poetry readings, exhibits and artistic events. All CAAS events are open to the Wesleyan Community and the general public. 
November 9 at 4:30pm
Jen Manion, CAAS Lecture
"The Fugitive Slave Act, Anti-Cross-Dressing Laws, and the Expansion of American Policing"
Vanguard Lounge, CAAS

October 18 at 12:15pm
AFAM Prospective Students Open House
Vanguard Lounge
Light Lunch served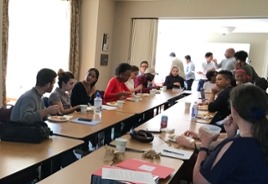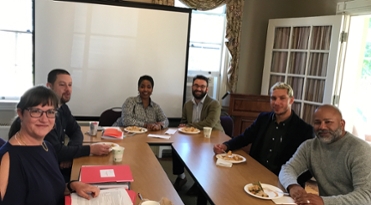 October 10 at 4:30pm
Lawrence Jackson, CAAS Distinguished Alumni Lecture 
"A Fighter Fights and A Writer Writes: Encountering Chester B. Himes"
Russell House
September 20 at 4:30pm
Hortense Spillers, CAAS Distinguished Lecture
"Women and the Laws: What the Eighteenth Century Teaches"
PAC 001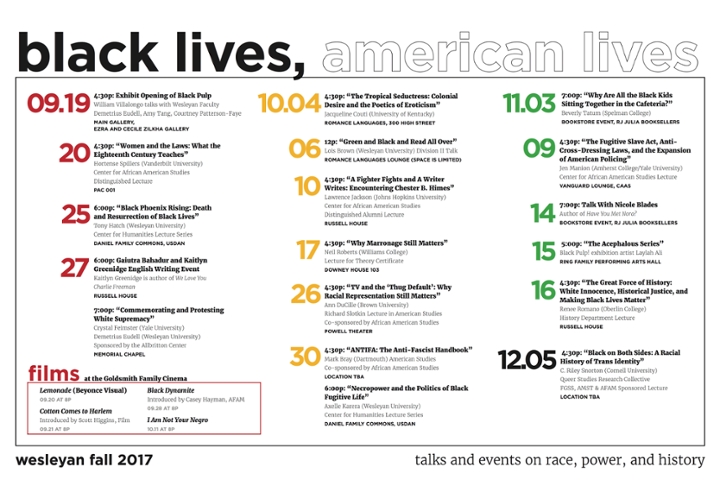 News
New Faculty - Visiting Professors for 17/18 Academic Year
Casey Hayman completed his Ph.D. in English and American Studies at the University of Massachusetts Amherst. His research focuses on contemporary African American literature and popular culture. He particularly focuses on music, with emphasis on hip hop music and culture. He is particularly interested in the question of the continuing relevance of blackness as identity in the post-Civil Rights era--how and why does blackness continue to "matter" in the 21st century? He also examines, in his research and his teaching, the ways that contemporary black cultural creators engage with and make use of representations of "blackness" as they circulate in the cultural imaginary via mass-mediated technologies. His work has appeared in the African American Review, MELUS, The Massachusetts Review, and American Studies.
Jesse Nasta (PhD, Northwestern University; BA, Wesleyan University) specializes in the social and legal histories of slavery, emancipation, and African American mobility during the eight decades before the Civil War. His current manuscript project, "Making Slavery's Borders, "examines how ordinary people, black and white, enslaved and free, gradually gave force and meaning to Congress's Northwest Ordinance of 1787. Although the Ordinance ostensibly banned slavery in the present-day Midwest, Nasta finds that it was the cross-border movement and the resulting legal claims of those present on the western frontier, especially of African Americans themselves, that made a slavery-free West a reality by the mid-19th century.  Dr. Nasta's research has received support from the American Historical Association, the Illinois tate Historical Society, the Missouri State Archives, and from fellowships at the University of Wisconsin-Madison's Hurst Summer Institute in Legal History and Northwestern University's Center for Historical Studies. He began his teaching, for which he received the Lacey Baldwin Smith Prize for Teaching Excellence at Northwestern University, as a Ford Fellow in the Writing Programs at Wesleyan. His research on 19th-century African American history also began at Wesleyan University, where he wrote an honors thesis on the Leverett Beman Historic District, a pre-Civil War activist community of free, property-owning African Americans on what is now Wesleyan's campus.
Newspaper
The Ankh - Founded in 1985, has served as a vehicle of expression and empowerment for Wesleyan's students, faculty, and staff of color throughout its history. For up-to-date articles covering issues and events on and off campus, please viisit the Ankh website at http://the-ankh.org/

Link to Instagram page: https://www.instagram.com/theankh_/
Link to Twitter page: https://twitter.com/WesleyanAnkh
Link to Facebook page: https://www.facebook.com/wesankh