The Rick Nicita Gallery
Current Exhibit

Photoplay: Fan Magazine Covers, 1917 – 1937
Photoplay was the preeminent fan magazine from the golden years of Hollywood. Featuring full-color cover portraits, reviews, interviews and stories on current films and stars, its popularity increased in tandem with skyrocketing box office returns in the 1920s and 1930s. Photoplay was a conduit between Hollywood studios and American moviegoers— it fed the increasing appetite of film fans interested in celebrity, glamour, and all things Hollywood, while providing a venue for the studios to promote their productions and stars. 
This exhibit presents 40 Photoplay covers from 20 years of publication, showcasing the illustrated portraits that defined the magazine until 1937. The Wesleyan Cinema Archives has an extensive collection of Photoplay and other fan magazines in the Railton Cabbell Collection, donated to the archives in 2002. The first magazine in the exhibit, dated March 1917, is the earliest Photoplay from the Cabbell material, which includes editions from the teens through the 1970s.
As fan magazines morphed into tabloids in the 1960s and 1970s, Photoplay fell from prominence and published its last issue in April 1980. Through the 1950s, however, Photoplay magazine reigned supreme, and its covers are an outstanding example of an American popular art form. 
Hours:
During the school year:
Fridays and Saturdays, 12-4 p.m.
and by appointment
Summer and school vacations:
By appointment only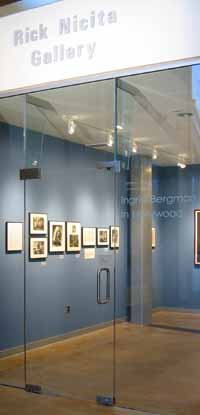 The Rick Nicita Gallery is located in:
Center for Film Studies
Wesleyan University
301 Washington Terrace
Middletown, CT 06459

Information: 860 685-2220