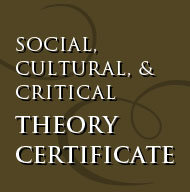 Thursday, March 05, 2015
04:30 pm - 06:00 pm
Book discussion with David Scott
A Theory Certificate Book Discussion:
David Scott, Omens of Adversity: Tragedy, Time, Memory, Justice

Participants: David Scott, Lily Saint, and Matthew Garrett

Omens of Adversity is a profound critique of the experience of postcolonial, postsocialist temporality. The case study at its core is the demise of the Grenada Revolution (1979?1983), and the repercussions of its collapse. In the Anglophone Caribbean, the Grenada Revolution represented both the possibility of a break from colonial and neocolonial oppression, and hope for egalitarian change and social and political justice. The Revolution's collapse in 1983 was devastating to a revolutionary generation. In hindsight, its demise signaled the end of an era of revolutionary socialist possibility. Scott argues that the palpable sense of the neoliberal present as time stalled, without hope for emancipatory futures, has had far-reaching effects on how we think about the nature of political action and justice.

David Scott is Professor of Anthropology at Columbia University and editor of the journal Small Axe. He is the author of many books and essays, including Formations of Ritual: Colonial and Anthropological Discourses on the Sinhala Yaktovil, Refashioning Futures: Criticism after Postcoloniality, and Conscripts of Modernity: The Tragedy of Colonial Enlightenment.

Lily Saint is Assistant Professor of English at Wesleyan. Her research explores the nexus of ethics and cultural practice in the Global South. She is currently writing a book, Acts of Culture: Ethics and Genre in South Africa, which considers how black practices of reading and spectatorship in twentieth century South Africa contributed to the formation of ethical relation during a period largely characterized by ethical crisis.

Excerpts from the book are available to all audience members. For the readings, please contact Matthew Garrett (mcgarrett@wesleyan.edu or x3598).

Russell House All Rooms
Wednesday, March 25, 2015
04:30 pm - 06:00 pm
DIFFERENCE
Amy Tang
Assistant Professor of American Studies and English
Downey 113 (Hobbs Classroom)
Wednesday, April 08, 2015
04:30 pm - 06:00 pm
UTOPIA
Eirene Visvardi
Assistant Professor of Classical Studies
Downey 113 (Hobbs Classroom)