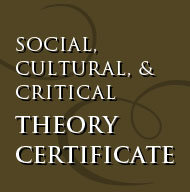 Tuesday, February 23, 2016
4:30 PM - 6:00 PM (ET)
Downey 113
Semi-Detached: Theory Certificate Presents John Plotz
John Plotz (Brandeis University) lectures on his forthcoming book, Semi-Detached: The Aesthetics of Partial Absorption.
Semi-Detached is about what it means to get partially drawn in to a work of art. In it, Plotz asks, When you've half lost yourself in a book, what happens to the half left behind? Artworks are like virtual worlds that allow their audiences to feel that they are simultaneously inside and outside of them—both in an art gallery looking at a painting, and somehow within the world that painting depicts. Plotz offers a genealogy of 19th-century ideas about the partial immersion produced by novels, poems, and panoramas. That genealogy, he argues, can shed light on modern-day versions of world-blocking absorption: Virtual worlds, immersive gaming, even texting and Facebook.
Thursday, March 30, 2017 - CANCELED
04:30 pm - 06:00 pm
Theory Certificate Presents Simone Browne
Simone Browne (University of Texas, Austin), "Thinking A.I. through Rastus Robot, the Westinghouse Mechanical Slave."