Annual Disability Studies Lecture
2018: Rachel Ann Lewis lecture, "Defective Citizens: Disability, Immigration, and the Afterlife of Eugenics" Thursday April 26 at 4:30pm Allbritton 311
RESCHEDULED: 2016-17: Eli Clare reads from Brilliant Imperfection: Grappling with Cure on MONDAY, February 13th at 4:30 in Russell House. Books available to purchase. Reception to follow.
2015-16: Jina Kim lecture, "Unsupported Lives: Disability and Infrastructural Neglect in New Orleans" Thursday, October 29 at 4:15pm in Allbritton 311
2014-15: Robert McRuer, "Queer/Crip Displacements: Disability, Austerity, and Resistance" Thursday, October 2 at 4:30pm in Allbritton 311
2013-14: Sins Invalid screening Wednesday, December 4th at 7:30 in Downey House 113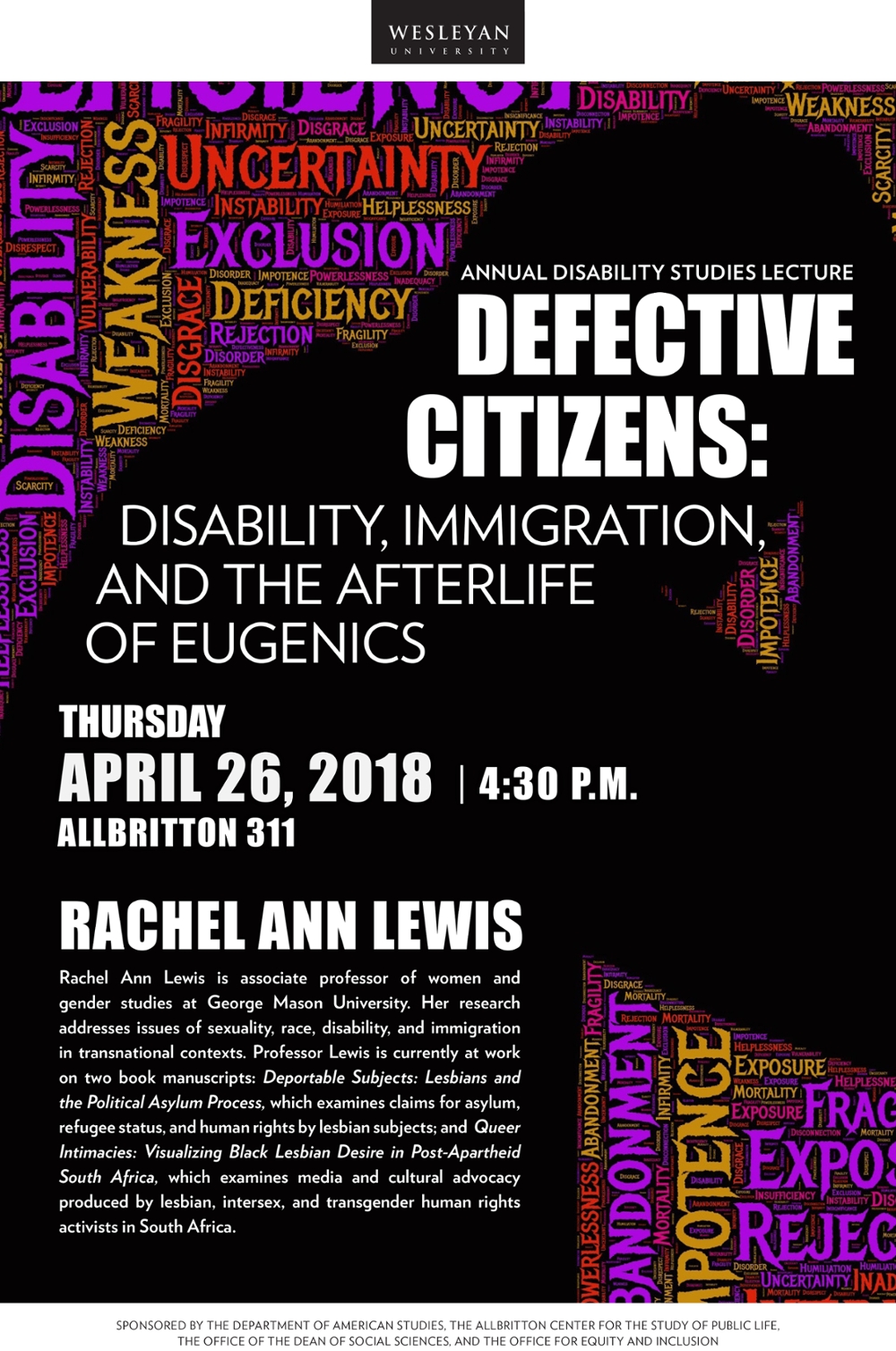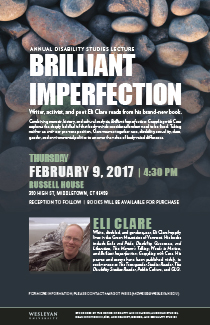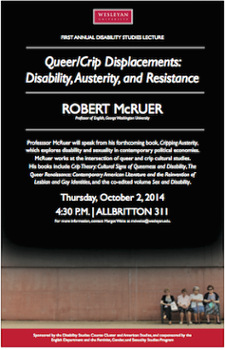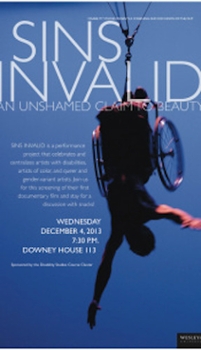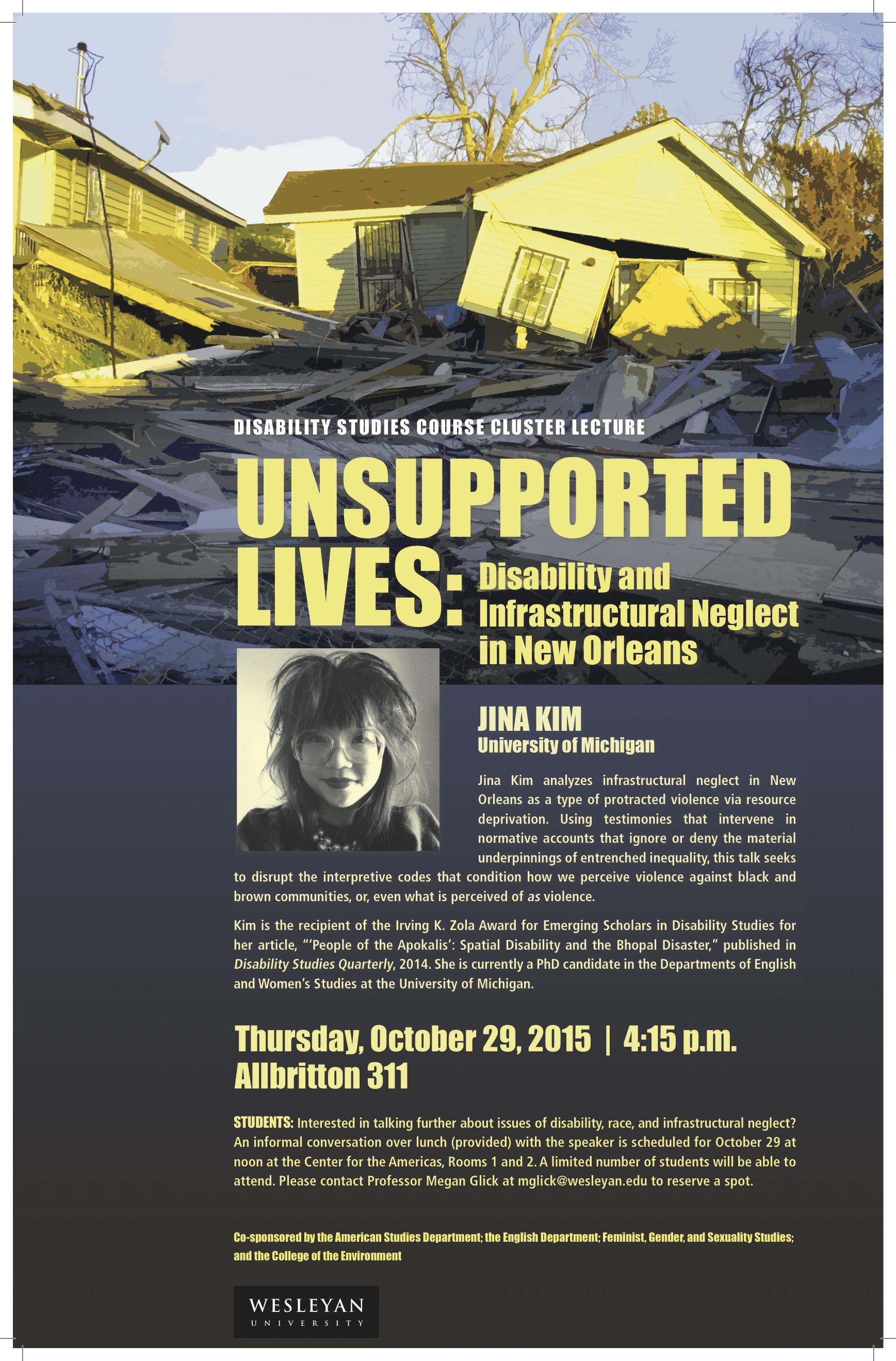 Other Disability Studies Programming
Caitrin Lynch, Lecture: "Disability and Design: Integrating Voices and Expertise for a Desirable Future" Tuesday, March 1 at 4:15pm in PAC 001. Hands-on design workshop, for students, on Wednesday, March 2 2016 at 4:15pm in the Digital Design Studio. 
Jasbir Puar, Lecture: "The 'Right' to Main: Inhumanist Biopolitics and Palestine" Thursday, April 30 2015 at 4:15 in Exley 150
David Serlin, Lecture: "Tactile Modernism and the Cultural Politics of Disability in the 1930s" Monday, March 23 2015 at 4.15 pm in Usdan 108
Disability Across the Curriculum: senior thesis/essay panel presentation Thursday, April 24th 2014 from 5:30-6:30 in PAC 002