College of Education Studies
The Education Studies academic program is designed to help students acquire a deeper understanding of education and its relationship to society. Through a range of courses across the curriculum, students look critically and analytically at educational institutions, practices, and thinking, from early childhood through adulthood, using local, national, and global lenses. Foundation courses provide a theoretical background on philosophy, history, and psychology of education. Further requirements empower students with the knowledge, tools, and skills for analyzing different aspects of education, on topics such as human development and cognition, pedagogy and curriculum, and sociocultural approaches to the study of education. Students complete a methods course relevant to education studies as well as a practicum experience to gain hands-on experience complementing their academic work.
Click the image below to view faculty video interviews, recommended readings, news updates, and much more.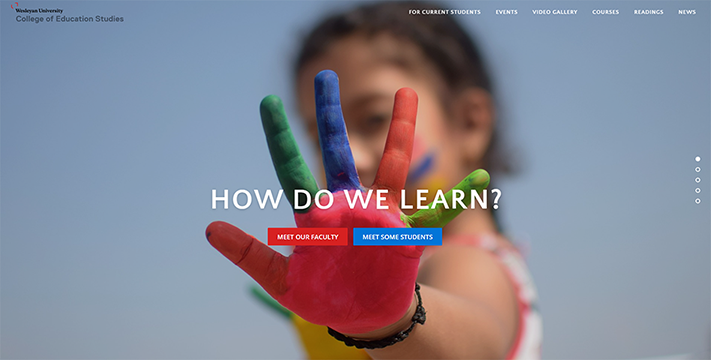 The Education Studies academic program does not provide the course credentials for CT State Initial Educator Certification that are required for teaching positions in public schools.
For more information about the major and minor, please watch the video below.
Join The Education Studies Network
Education Studies Events During Reunion & Commencement Weekend
All events will be held at 164 Mt Vernon Street, Middletown CT
Friday, May 20, 2022
4:00 - 5:30 pm
Round Table Discussion
We are looking for alumni doing exciting work in the field of education as thought partners in the development of the College. Join members of the new College of Education Studies to imagine the future of the College! Please arrive at 4 PM to participate in this event.
5:30 - 6:30 pm
Open House & Reception
Stay after the Round Table, or come when you can, to warm up the new home of Education Studies at Wesleyan! We would love to meet you, say hello, and toast the successful launch of the College. Drop-ins are welcome.
Saturday, May 21, 2022
2:00 - 4:00 pm
Academic Open House
Celebrate the class of 2022, meet Education Studies students and faculty, and tour the new home of the CES! Light food and drink will be served.