College of Education Studies
The Education Studies academic program is designed to help students acquire a deeper understanding of education and its relationship to society. Through a range of courses across the curriculum, students look critically and analytically at educational institutions, practices, and thinking, from early childhood through adulthood, using local, national, and global lenses. Foundation courses provide a theoretical background on philosophy, history, and psychology of education. Further requirements empower students with the knowledge, tools, and skills for analyzing different aspects of education, on topics such as human development and cognition, pedagogy and curriculum, and sociocultural approaches to the study of education. Students complete a methods course relevant to education studies as well as a practicum experience to gain hands-on experience complementing their academic work.
Click the image below to view faculty video interviews, recommended readings, news updates, and much more.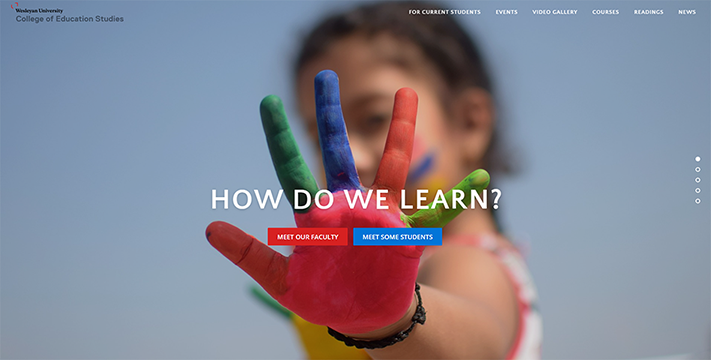 The Education Studies academic program does not provide the course credentials for CT State Initial Educator Certification that are required for teaching positions in public schools.
To keep up to date on the lastest news on talks, classes, career and internship opportunities, sign up for our listserve by clicking the link and filling out the form below: 
Join The Education Studies Network
For more information about the major and minor, please watch the video below.
Upcoming Events
Tuesday, November 29, 2022
4:30 - 5:30 pm in Downey House, Room 113
Colloquium by Dr. Demarcus Jenkins, Penn State University
Dr. Jenkins is an activist and urban scholar whose work considers the intersections of race, space, and policy. His research focuses on the influence of spatial, social, and political factors that foster and exacerbate inequalities for Black populations, as well as the approaches that school leaders take to disrupt and transform these dynamics. His interdisciplinary approach to tackling complex and challenging racial equity problems in schools is informed by Black critical theory, critical spatial theory, Black geographies, critical policy studies, and justice-oriented leadership frameworks. Consistent throughout his research are practical solutions for school leaders and policymakers.
He recently received a research grant from the Spencer Foundation to examine how urban school systems respond to policy changes that divest and disinvest from law enforcement on school campuses. His research program draws from his previous professional experience working in urban schools and local and state policy and advocacy.
Tuesday, November 29, 2022
12:00 - 1:00 pm at 164 Mt. Vernon, College of Education Studies House
College of Education Studies Thesis Student Presentations 
Students who are writing a thesis in the College of Education Studies invite everyone to come and hear about their exciting work.