Wesleyan Christian Fellowship (WesCF)
Proclaiming new life, building community.
Wesleyan Christian Fellowship (WesCF) is an active, multicultural, interdenominational community of students welcoming all. The Protestant Community provides regular weekly gatherings, Bible studies, times of prayer, and other activities to enrich the spiritual life of students and expand intellectual endeavors beyond the classroom. All are welcome to our weekly events, wherever you may find yourself on their journey of faith!
The mission of WesCF is to "Join Jesus in proclaiming new life to students and faculty at Wesleyan."  We acknowledge that it is ultimately the Holy Spirit that touches and moves hearts, and that we are called to be co-workers with God in that transforming work.  When we gather together in community to both encourage and build up one another, and seek God as one body – through praise, prayer, and study – we find that we ourselves are renewed and recharged to carry the Gospel message of mercy, forgiveness, love, and new beginnings with us into the dorm and the classroom alike.
Contact us via WesNest, by email at wescf7@gmail.com, via the Protestant Chaplain, or on Instagram @wesleyan_cf. 
What do we do?
On any given Wednesday, we focus on one of four core activities geared toward discipleship formation and community building:
Prayer – we devote our gathering towards humbling ourselves and corporately approaching the throne of grace to express our thanksgivings, pray for individual needs, and lift up our friends, teachers, fellowship, and campus in prayer; in our commune with God, we also seek to share and expose ourselves to different prayer styles and capacities so that we may benefit from the rich diversity of prayer traditions.
Bible Study – we inductively study a scripture passage from the Old or New Testament in small groups and then reconvene to share insights and applications.
Worship – during these times of fellowship and worship, we set apart a time and space to celebrate God's faithfulness and mercy and celebrate how God has met us right where we are and has moved in our lives, both individually and collectively.
Service activities – responding to the charge in Micah 6:8 to "do justice [and] love mercy…" and to be God's hands and feet in this world, we seek during these times to serve our community – whether on campus, in the larger Middletown area, or beyond – and to both spread encouragement and joy, and minister to their needs in any capacity we can.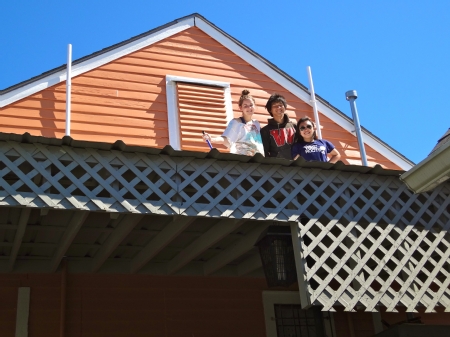 Wesleyan ServeUP volunteers, New Orleans
Who participates?
All are welcome, wherever they may find themselves on their journey of faith: from the seeker who desires an open and receptive setting in which to voice questions…to the Christian who desires an edifying community that encourages the nurture and growth of each member and that focuses on sharing and learning ways to more tangibly share the Gospel with those we encounter each day.
Meeting times and location:
---
Fall 2023 Schedule
---
Stay tuned for updates! 
Bible Study:
Thursdays at 8:00pm at Lighthouse
(beginning Sept 14, 2023)

Prayer Meeting:
Tuesdays at 6:00pm at the Office of Religious and Spiritual Life (169 High Street, 2nd floor)
(beginning Sept 12, 2023)
Our Social Media:
Instagram: @wesleyan_cf
Facebook: http://www.facebook.com/WesleyanChristianFellowship?fref=ts