Common Questions
What are pronouns?
Gendered pronouns are those that indicate gender: he, she, him, her, hers, his, himself and herself.  When we use such pronouns, we typically have made an assumption about someone's gender identity.  However, some people present their gender identity ambiguously (causing traditional assumptions about gender to be irrelevant or incorrect) while others may feel more comfortable with gender-neutral pronouns or with using a pronoun different from the one associated with their biological sex or apparent gender expression.
We suggest avoiding assumptions, and asking others about their pronouns.  Alternatively, you might use gender neutral pronouns: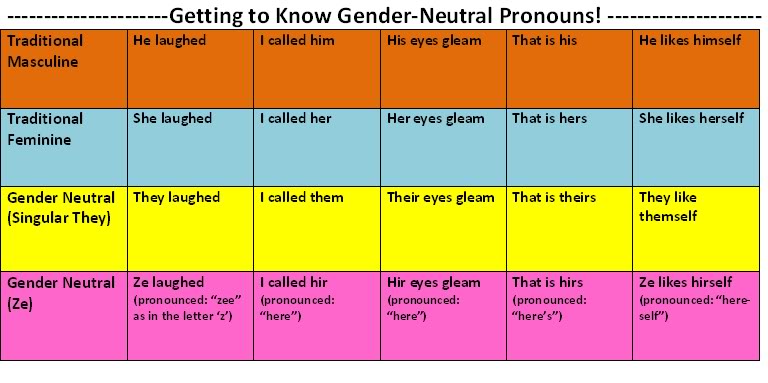 Does Wesleyan offer gender-neutral housing?
Yes!  Wesleyan has offered gender-neutral housing for incoming first-year students for many years.  You can read more about it here.

Students select their own housing from among the available options via a lottery process after their first year, and may choose to live with other students without regard to gender.
Are there GLBT-themed housing options?
Yes! Open House is a program housing option available to all students after their first-year.  Read more about this option here.
Can queer students remain on campus during breaks?
Wesleyan has several breaks/recesses over the course of an academic year.  Student residences remain open during the academic year except during winter break (intersession).  Students who are not registered for intersession must normally leave their residences during this time.  However, permission may be granted for a student to remain on campus if that student has a difficult home situation (whatever the cause).  Students in this situation should speak with their class dean, who will then make the necessary arrangements with Res Life.
Does Wesleyan have a queer/gender resource center?
The Resource Center (RC) is located at 167 High Street, find more information about the center here.
Does Wesleyan have gender-neutral/all-gender restrooms?
Fifty-six of Wesleyan's 70 academic and administrative buildings currently have single-use "all gender" restrooms.  The trans-inclusive signage below in Figure 1 should be installed on all of these restrooms (there are 178 single-use restrooms in these 56 buildings).  Locations of these restrooms may be found here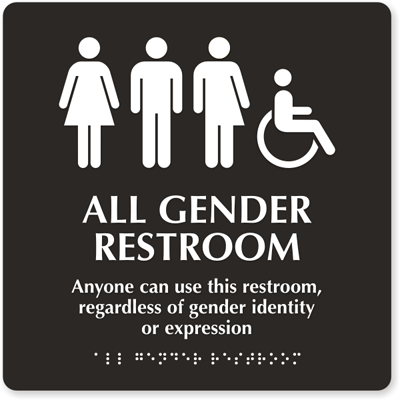 Restrooms in most student residences are "all gender" (by designation or practice).
Wesleyan has a long-term plan to improve campus accessibility through renovations over time, and we expect additional all gender restrooms to be added in the future.
What is a preferred name?
Some members of the Wesleyan community are known by a name that is different from their legal name. Students, faculty and staff who wish to be identified by a preferred name can enter that name in the Personal Information section of their e-portfolio. This preferred name will appear in most University systems. While anyone is welcome to use a preferred name, this option has been developed to respond to the needs of some international students, transgender people, and others who may prefer to use a middle name or a nickname.
Click here for more information
Does the Counseling Center have queer-friendly therapists?
Counseling and Psychological Services (CAPS) has a team of full-time and part-time therapists, all with experience working with queer and trans* college populations.  Meet the staff here 
The office can also assist with referrals to providers in the local community who specialize in LGBT issues. For more information click here. 
Is the Health Center queer-friendly?
The staff at the Davison Health Center has extensive training in working with queer and trans* students.  Health Center forms and protocols have been reviewed and revised to make them queer- and trans-inclusive.  If any student has a concern about their interaction with a provider at Health Services, please contact Joyce Walter, Director of Health Services (who is also a member of Wes's out faculty and staff).
What's the deal with chalking?
The University's policy on Posters, Banners, Announcements and Other Forms of Communication prohibits chalking on University sidewalks and buildings.  Why?  There are many narratives.  Dean Mike Whaley, Wesleyan's out VP for Student Affairs, spoke with Wesleying about some of the issues. You can find the article here.
Are there out/visible faculty and staff?
Yes!  Wesleyan is committed to having a diverse group of Faculty and Staff. Out faculty and staff are happy to be resources for students and are listed here.