Courses
DEGAS TOULOUSE-LAUTREC
THIS CLASS IS FULL - PLEASE NO NEW ENROLLMENTS
Paintings by Edgar Degas influenced the younger Toulouse-Lautrec in the late 19th century and initiated new kinds of subject matter that were both revealing and shocking to the French public.  Lautrec himself extended those innovations into something of his own.  His works were often raw but honest portrayals of the world of cabaret entertainers and brothels.  His posters, which served to bridge the gap between fine art and popular art, created a totally new artistic phenomenon; the art of celebrity, anticipating the work of Andy Warhol in the 20th century.  We will examine works by both artists, evaluating their contributions, differences, and innovations.
Instructor: Rhea Higgins
Three Mondays: November 4, 11, 18
4:30-6pm     5:00-6:30pm
Butterfield Room, Wasch Center
$70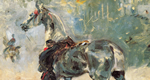 Rhea Higgins is an adjunct professor in the art history department in the College of the Arts and Sciences at the University of Hartford. 
Please see the who's who for her full biography.