Courses
MYSTERY THURSDAYS: FIVE CHARACTERS IN SEARCH OF A CULPRIT
When last we followed the trail of murder we were in Scandinavia.  In this sequence of mysteries we will encounter five fascinating characters, each with a distinct personality and approach to criminal investigation, and each reflective of an ambient culture steeped in generations of experience.  The sequence: Aimee Leduc in Paris; Hermes Diaktoros on a Greek Island; Inspector Van Veeteren, in Holland, perhaps; Salvo Montalbano, certainly in Sicily; and finally, Adam Dalgliesh on Combe Island, off the Cornish Coast.  As in the past, we will read with the intent of outwitting our sleuth, finding the clues and providing a plausible account of the events in anticipation of he novel's conclusion.  Required texts will be available for purchase at Broad Street Bookstore, 45 Broad Street, Middletown:
Cara Black, Murder in he Bastille (SoHo Press, 2003)
Andrea Camilleri, Rounding the Mark (Penguin, 2007)
P D James, The Lighthouse (Vintage 2005)
Haken Nesser, Mind's Eye (Vintage 2008)
Anne Zouroudi, The Taint of Midas (Bloomsbury Publishing 2009)
Instructor: Andrew DeRocco
Five Thursdays: September 12, 19, 26, October 3, 10
7-8:30pm
Butterfield Room, Wasch Center
$110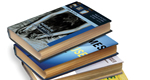 Andrew DeRocco
was dean of the faculty at Trinity College, president of Denison University, and Connecticut's commissioner of higher education.  Please see
who's who
for his full biography.