Courses
The Cycle of Life - A Rite de Passage for the Elder Passage

Joseph Campbell said: "There is no question, the psychological dangers through which earlier generations were guided by the symbols and spiritual exercises of the mythological and religious inheritance, we must face alone, or at best, with only tentative, impromptu, and not too often very effective guidance." This short course will culminate in a weekend during which we will experience a Rite de Passage for entering and experiencing eldership.
Erik Erikson has identified two essential tasks for elders:
• Establishing EGO-INTEGRITY involves a process of reflection that allows us to see our life, from birth to death, as the life we were meant to live even as we accept those detours that took us off the path, which, at times, might have seemed too straight and narrow.
• Experiencing TRANSCENDENCE, "a shift in meta-perspective, from a materialistic and rational vision to a more cosmic and transcendent one."
In two previous courses, Bill Roberts has led conversation about this stage of life. In this program, he will guide us in creating "spiritual exercises" to enliven the process of growing old with courage and fervor.
Instructor: Bill Roberts
TWO TUESDAYS: May 7 and 14, 6:30-8:00p.m.
ONE FRIDAY: May 17, 6:30-9:30p.m.
ONE SATURDAY: May 18, 8:30a.m.-4:30p.m. and 6:30-9:30p.m.
BUTTERFIELD ROOM
$125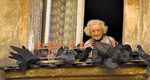 BILL ROBERTS '63 was the minister of the First Church for 20 years. He left the parish ministry in 1989 and worked for KPMG and Prudential before beginning his own consulting firm. He has written two books: Initiation to Adulthood: an Ancient Rite of Passage in Contemporary Form and Crossing the Soul's River: A Rite of Passage for Men (at Midlife).