Courses
Adventures in Opinion Writing

"What is democratic literature?" The Internet has opened up publication of all literary genres, but opinion writing is a crucial part of the increase in civic participation and self-expression in this revolution. This special writing course will explore how to make the most of the new opportunities available.


Instructor: Sarah Ruden
THREE THURSDAYS: April 4, 11, 18, 5-6:30 p.m
BUTTERFIELD ROOM
$70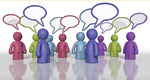 SARAH RUDEN, currently a visiting scholar in classical studies, received a doctorate in classics from Harvard University and an MA from the Johns Hopkins Writing Seminars. She has taught at Harvard University, Yale University, and other institutions. She is a prolific journalist, poet, and translator and recently sold her ninth book (on the translation of the Bible) to Knopf.