Courses
All About Food: Healthy Cooking
"One should eat to live, not live to eat." — Benjamin Franklin

Could it really be that simple? Explore the dynamics of healthy cooking, food selection (shopping), food preparation (cooking), and food consumption (eating). Expand your understanding of ethical eating practices, gain knowledge of the "hidden" benefits of using local ingredients, and learn quick and healthy cooking techniques that enhance the flavors and nutritional value of food. Each class meeting will include a lecture/discussion component, cooking demonstration, and food tasting.


Instructor: Brian Dagnall
FOUR TUESDAYS: NOVEMBER 4, 11, 18, 25 | 4:30–6:30 P.M.
DANIEL FAMILY COMMONS | $125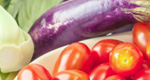 BRIAN DAGNALL, executive chef at Wesleyan, trained at Johnson and Wales University and the Culinary Institute of America. After studying under master chef Paul Amaral as a teenager, Dagnall traveled the United States, working as executive chef at numerous restaurants. Upon returning to New England, he joined Bon Appétit Management Company and has served as executive chef at four universities in the northeast. He shares Bon Appétit's commitment to socially responsible practices and support of local farmers and vendors.