Courses
Henri Matisse: From Fauve to Modernist Art
"What I dream of is an art of balance, purity, and serenity devoid of troubling or depressing subject matter… a soothing, calming influence on the mind, something like a good armchair which provides relaxation from physical fatigue." — Henri Matisse

Paintings by Henri Matisse and five of his fellow artists in 1905 were met with public jeers at what critics viewed as "an orgy of brutal colors, violent and primitive, works by wild beasts or fauves." How can we reconcile this criticism with the above quotation? Determined to free art from the conventional expectations of patrons, Matisse's works stood at the border between pictorial illusion and the kind of "pure paint" and color that would become a preoccupation of 20th-century modernism.

This course will examine how this one artist's work developed from classical European styles of art to some of the most abstract and expressionist works of the early to mid-20th century, making him one of the founders of what we today consider modernist art. Matisse's constantly changing artistic styles will be highlighted along with his friendship and rivalry with Pablo Picasso.


Instructor: Rhea Higgins
THREE TUESDAYS: OCTOBER 14, 21, 28 | 4:30–6 P.M.
WASCH CENTER BUTTERFIELD ROOM | $70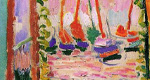 RHEA PADIS HIGGINS is an adjunct professor in the art history department in the College of Arts and Sciences at the University of Hartford. She taught at Wesleyan in Graduate Liberal Studies from 1986 to 2002. Her area of expertise is 19th-century European painting, with an emphasis on post-Impressionist artists.