Courses
"Painting for the People": Lithography in France in the 19th Century
In 1839, printer Pierre Benoiste declared that "Lithography is painting for the people. Oil paintings … are for the rich; engraving is for the bourgeoisie." The breakthrough printing technique of lithography was invented in 1798 and became successfully established in Paris by 1816, one year after the fall of Napoleon. Fast and theoretically limitless, the technique appealed to artists and agitators alike.

The first class will look at early lithographs by French Romantic artists including Théodore Géricault and Eugene Delacroix. The second celebrates the radical political satires and social caricatures by Honoré Daumier and his friends from the 1830s to the 1870s. The final class examines the exploration of color lithography by Impressionists and Post-Impressionists including Édouard Manet, Pierre Bonnard, and Henri de Toulouse-Lautrec.
Instructor: Clare Rogan
THREE WEDNESDAYS: OCTOBER 15, 22, 29 | 6–7:30 P.M.
DAVISON ART CENTER PRINT REFERENCE LIBRARY | $70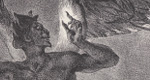 CLARE ROGAN is curator of the Davison Art Center and an adjunct assistant professor in the art history program at Wesleyan. She teaches courses on the history of prints, history of photography, and museum studies. Her publications include articles on early lithography and German art of the early 20th century.