Courses
Picasso and Truth
Pablo Picasso is considered today the most widely recognized artist of the 20th century. He managed in his long career to produce a monumental body of work as well as develop visions of artistic expression with astonishing concepts that strained the conventions of art criticism. We will examine his early works to later ones, stressing the importance of his innovation of form begun by Cubism with his association with Georges Braque. Certain crucial paintings such as Les Demoiselles d'Avignon and Guernica will be highlighted as we evaluate his original contribution to the world of art forms and understand more completely what Picasso meant when he said, "Art is a lie which makes us see the truth.
Instructor: Rhea Higgins
Three Tuesdays: November 10, 17 and 24: 4:30–6 p.m.
Wasch Center Butterfield Room: $70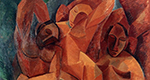 Rhea Padis Higgins is an adjunct professor in the art history department in the College of Arts and Sciences at the University of Hartford. She taught at Wesleyan in Graduate Liberal Studies from 1986 to 2002. Her area of expertise is 19th-century European painting, with an emphasis on post-Impressionist artists.