Courses
Three Operatic Femmes Fatales: Carmen, Dalila, Salome
This course explores the idea of the "femme fatale" as manifested in three popular operas of the late 19th and early 20th centuries through discussion of a trio of operatic "bad girls": Bizet's Carmen, Saint-Saëns's Dalila, and Richard Strauss's Salome. We will focus on their origins, their roles as catalysts of concupiscence, and their previous and subsequent analogues in literature, art, and popular culture, culminating in the film noir. The presentations will include audio and video clips with ample opportunity for discussion. Walter Mayo will discuss the evolution of the character of Dalila, from her earliest Biblical appearance through later characterizations by Milton, Handel, and Voltaire and in Saint-Saëns's opera Samson and Dalila. Peter Frenzel will trace the tonal fibers that make up Strauss's musical fabric in Salome, showing how the orchestration with its opulent textures becomes integral to the course of the action and the structure of the plot. Joyce Lowrie will explore the origins of the figure of Carmen and the ways Prosper Mérimée's novella served (and didn't serve) as a model for the later and quite different opera.
One session will be devoted to each opera, with the final meeting reserved for discussion and video clips of later femmes fatales in the 20th century.


Instructor: Walter Mayo, Peter Frenzel, and Joyce Lowrie
FOUR TUESDAYS: MARCH 10, 17, 24, and 31
4:30–6 P.M.
WASCH CENTER BUTTERFIELD ROOM
$90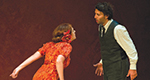 PETER FRENZEL is professor of German studies, emeritus at Wesleyan. For more than 40 years he taught courses in medieval studies as well as on opera and music of the 19th and 20th century. His compositions include incidental music to Gay Smith's 1995 production of Macbeth at Wesleyan and many pieces for the Wesleyan carillon. His scholarly publications are in the field of medieval music and literature, focusing on the relationships between text and tune in 13th-century courtly singing. He has played various medieval musical instruments such as rebec, fiddle, and Gothic harp.
JOYCE LOWRIE is professor of Romance languages and literatures, emerita at Wesleyan. Her publications include The Violent Mystique, Sightings: Mirrors in Texts—Texts in Mirrors, and a translation of Rimbaud's Illuminations. She has also written articles and chapters of books on 19th- and 20th-century literature. While directing the Wesleyan Program in Paris, she sang in the Choeur de l'Orchestre de Paris, conducted by Daniel Barenboim. Her interests in the literary origins of opera led her on a continuing project exploring Bizet's usage of Mérimée's novella Carmen as one of the many points of departure for the composition of his opera.
WALTER MAYO is a retired attorney and a lover of music of all genres. He has sung with the Hartford Choral and a Hartford madrigal group, plays occasional jazz string bass, and is a ringer/alumnus of the Wesleyan Pep Band percussion section. He is a member of the board of the Musical Club of Hartford and a co-constructor of a 1970 Zuckerman harpsichord. He also plays with the State Street String Band.