Courses
All Aboard! The Romance of Trains
This full-day program will take place entirely at the facilities of the Valley Railroad Company in Essex, and will feature an excursion by train and boat.  The course will examine railroading historically--with special attention to Connecticut railroads and the railroad along the lower river valley.  With this historical perspective, the impact the railroad has had on the area will be described. This will include examination of some of the railroad artifacts found along the line. Then we will cover what it takes to maintain and operate historic trains, including a tour of the Valley Railroad shops and equipment. The techniques of steam locomotive operation will be demonstrated and we will learn of the opportunities and challenges of operating a tourist railroad along the Connecticut River.  The class will then take a narrated excursion on the Essex Steam Train and Riverboat including a box lunch on the Becky Thatcher Riverboat.



Instructor: Lee Osborne, Max Miller, Dave Conrad, and Robert Bell
SATURDAY, MAY 16, 2015 - $125
8:30 – 9:00am        Registration (coffee)
9:00 – 9:45am        Railroads in Connecticut: Lee Osborne
9:45 – 10:30am       Local Railroad History: Max Miller
10:45 – 11:30am     Valley Railroad Shop Tour: Dave Conrad
11:45am – 12:30pm The Business of a Tourist Railroad: Robert Bell
12:30 – 3:15pm       Narrated Excursion Essex Steam Train and Riverboat
3:15pm                   Depart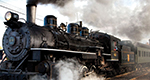 LEE OSBORNE is a Middletown architect and railroad historian.
DAVE CONRAD, chief mechanical officer, Valley Railroad is a renowned restorer of vintage railroad equipment.
ROBERT BELL is the president of the Valley Railroad Company and former owner and founder of New England Hobby Supply Riverboat.
MAX MILLER is the retired chief facilities manager of the Valley Railroad, an author, and railroad historian.