Courses
Due Process of Law
The Fourteenth Amendment to the Constitution of the United States, adopted in 1868, binds the several States to the same command that the Fifth Amendment imposes on the federal government, that no State may "deprive any person of life, liberty or property without due process of law." Cryptic though this Due Process Clause is, it has proven historically to be one of the most consequential and controversial provisions of the Constitution. From its inception to the present day, judges and scholars have disagreed over whether the clause merely requires that the States employ proper formal procedures, such as legislation by representative bodies and fair trials for accused defendants, before they may take a person's life, liberty, or property ("procedural due process") or whether the clause also imports other, unspecified rights relating to justice and fair treatment of individuals into the Constitution that prohibit the States from adopting certain kinds of legislation ("substantive due process"), and if the latter, what these extra constitutional rights might be and where they come from. This short course will explore these questions and their history in the American courts since 1868 by examining a series of key opinions of the United States Supreme Court that have elaborated and changed the meaning of the Due Process Clause over the years, along with short accompanying readings.


Instructor: Richard Adelstein
FIVE MONDAYS: FEBRUARY 2, 9, 16, 23, and MARCH 2
4:30–6 P.M.
WASCH CENTER BUTTERFIELD ROOM
$110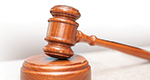 RICHARD ADELSTEIN is Woodhouse/Sysco Professor of Economics and a member of the Connecticut Bar. He has taught at Wesleyan since 1975, and twice received the University's annual Binswanger Prize for Excellence in Teaching. His scholarly and teaching interests lie at the intersection of economics, law, history, and philosophy, concerned primarily with how social order is created and maintained. He is happily married with two adult daughters and a lifelong fan of the Chicago Cubs, all of which has given him a deep appreciation of the limits of reason and control.