Courses
Johann Wolfgang von Goethe: Faust, Parts I and II
Few works of Western literature are truly sui generis, one of a kind—Faust is one of them and probably the greatest in many respects. It is a genre unto itself, encompassing virtually all of Western myth, literature, history, and philosophical speculation. It is a work of deep thought and subtle ironies, highly critical of modern capitalism and imperialism as manifested in early 19th-century Europe, and it epitomizes, in the titular hero, modern European man as he is still relevant today. Seeker, entrepreneur, and lover—he is searching for the ultimate, be it the core of the physical universe or true love or control over the environment. He will pursue his goals—as such searing geniuses often do—at great expense to others and himself.
The work also raises profound questions about the significance of language, what constitutes reality, and the possible uses of religion and literature and their icons in the modern era. And all of that in a bewildering array of verse forms, magnificently sustained.


Instructor: Herbert Arnold
FIVE MONDAYS: MARCH 23, 30 AND APRIL 6, 13, and 20
4:30–6 P.M.
WASCH CENTER BUTTERFIELD ROOM
$110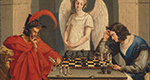 HERBERT A. ARNOLD is professor of German studies and letters, emeritus, at Wesleyan. After more than 40 years of teaching, he is revisiting some of his early research interests, including the European Baroque era, and continuing work on a biographical-historical investigation of Central European history in the 20th century. Most of his work in the past has centered on the intersection between history and literature in a pan-European context, and his publications range in time and subject matter from late 15th-century manuscripts to contemporary popular culture.