Courses
The Sewing Machine and the Typewriter: A Very Short History of Work in America
The evolution of each of these devices both reflected and caused significant changes in the way work was performed, with broad implications not only for a specific productive activity but also the way in which American society functioned in general. The forces propelling the development of these machines also propelled the development of other technologies and management strategies, which came to define what it means to work to this very day. By using the technical and social history of the sewing machine and the typewriter as a springboard, this course will explore a variety of issues about what was gained and lost in the process and the current significance of the answers to these questions.


Instructor: Richard Voigt
FOUR TUESDAYS: APRIL 7, 14, 21, and 28
6–7:30 P.M.
WASCH CENTER BUTTERFIELD ROOM
$90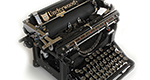 RICHARD VOIGT , Wesleyan '68, is a graduate of the University of Virginia Law School. He served in the Office of the Solicitor/U.S. Department of Labor in Washington, D.C. before entering private practice in Connecticut, where he has focused on labor, employment, and other issues of the workplace. He is a partner in the firm of McCarter & English, LLC. and has been recognized by Best Lawyers in America, among others. He has lectured on the history of the workplace and continues to follow the evolution of how work is performed in America.