Courses
Inventing America: How Art and Literature Shaped American Identity
This survey course will explore the idea of "nation" and the emergence of our unique American identity through the eyes of its artists and writers, from the period of exploration through the early 20th century. The active imagining of American artists and writers both shaped—and were shaped by—political, social, and economic factors during this country's emergence as a power on the world stage. Alternately eager to embrace Eurocentric cultural standards, while also fiercely desirous of severing those Old World bonds, art on this side of the Atlantic turned to our vast landscapes, diverse regional cultures, and expanding cities with their melting pot communities, to define and differentiate itself. In parallel fashion, literature captured the unique traits of the American persona, as it strived to come to terms with the vast horizons and seemingly unlimited opportunities of the North American continent. The Laws of Nature, God, Man and urban life frame our culture's progress. The course will include a reading list for class discussion, and a range of images from the period will be considered.


Instructor: Richard John Friswell
FIVE THURSDAYS: MARCH 5, 12, 19, 26, and APRIL 2
5–6:30 P.M.
WASCH CENTER BUTTERFIELD ROOM
$110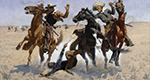 RICHARD JOHN FRISWELL has a EdM from Boston University and a MPhil from Wesleyan ('14), where he was awarded the Rulewater Prize for interdisciplinary scholarship. He is publisher and managing editor of ARTES, an international fine arts e-magazine; an elected member of the Association Internationale des Critiques d'Art, American Section, one of only 450 in the United States; and an award-winning writer, with two national medals from Folio magazine for his editorial contributions in the field of art journalism; he also has numerous exhibition and print publications to his credit. Originally from a business background, he has dedicated the last two decades of his career to visual arts and cultural history, with a particular focus on modernism.