Courses
A Perfect Omelet
A perfect omelet requires just the right mix of eggs and butter, a pan that is not too big or too small, not too hot and not too cold. It must be cooked not a second too long, lest it become something else, something pedestrian, like scrambled eggs. When prepared properly, however, an omelet is a radiant, shimmering gift from heaven, creamy on the inside, enfolded by an outer layer of egg with the consistency and firmness of lace. A perfect omelet takes patience and practice. Sadly, there is no recipe for a perfect omelet, no secret trick that will guarantee a perfect result, every time, if only we follow directions. Like life itself, the omelet is something of a mystery, as ordinary as breakfast and as profound as Plato.
In this hands-on course, students will learn to how to make their perfect omelet by watching and by cooking.
Bring an apron or a chef's jacket!
Enrollment limit is 8.


Instructor: John Finn
THREE WEDNESDAYS: APRIL 8, 15, and 22
6–7:30 P.M.
ALLBRITTON, ROOM 311
$100
Enrollment is limited to 8.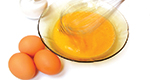 JOHN FINN is professor of government at Wesleyan. He received his BA in political science from Nasson College, a JD from Georgetown University, a PhD in political science from Princeton University, and a degree in culinary arts from the French Culinary Institute. He has taught at Wesleyan since 1986, where his research focuses on constitutional theory, comparative constitutional law, the legal regulation of terrorism and political violence, and cuisine and popular culture. His published works include an entry on "Measurements," in The Oxford Companion to Sugar and Sweets (edited by Darra Goldstein, forthcoming), an essay on Julia Child in Gastronomica, an essay on "Sacraments and Swedish Meatballs" in Wesleyan magazine, and scholarly articles on "The Perfect Recipe" and "The Kitchen Voice as Confessional" in Food, Culture and Society. Finn is also the author of three books on constitutional law.