Courses
Emily Dickinson and the Poetry of Presence
Who is Emily Dickinson? And why should anyone care? There are answers to these questions, very good answers, in fact. But I do not wish to supply them here. I prefer that we discover them together, through inquiry and discussion. Our Miss Emily (1830–1886)—one of America's most celebrated literary figures—dwells in perennial possibility, in infinite expanse and unlimited amplitude. The mind knows no constraints, geographical, historical, or otherwise, if it is adventurous, and Dickinson's is nothing, if not audacious. Once creative thought unshackles the chains of period and place, it is free to survey the landscape, hither or yon, fictional or factual, earthly or heavenly, wherever the emancipated wings of imagination alight, no matter how outwardly sedimentary and spinsterish a person's quotidian life may appear to the casual observer. In the time allotted us, we will explore a small yet representative sample of Dickinson's voluminous poetry (roughly 1,800 items comprise the corpus), with a focus on distilling the quintessence of what makes the Belle of Amherst such a singular and compelling presence in the consciousness of contemporary audiences. Specifically, we will study approximately 20 poems touching on profound existential issues that characteristically preoccupy not just the superlative poet under consideration but also reflective individuals of every stripe: life and death, pain and suffering, nature and society, science and religion, love, and the poetic function itself. No prior experience of Dickinson is necessary. Just read the assigned poems, think about them, and come to class prepared to join the conversation.
Instructor: Howard Einsohn
Four Thursdays: October 6, 13, 20, 27 | 4:30–6 P.M.
Wasch Center Butterfield Room | $90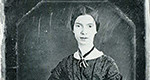 HOWARD EINSOHN received his BA in English from City College of CUNY, New York City; his MA in English from the University of Connecticut; his master's in library science from Rutgers University; and his Certificate of Advanced Study from Wesleyan. He has been employed at Middlesex Community College (Middletown, Connecticut) since 1974, in various capacities; retiring from full-time service in 2003 as the director of library services; and since then has served the college as an adjunct instructor in English, teaching one class a semester, mostly writing and literature courses. He is a member of the International Shaw Society (ISS), and an occasional contributor to SHAW: The Annual of Bernard Shaw Studies. Over the years, six of his articles have appeared in the SHAW Annual, the most recent in volume 34 (2014). He has also given presentations at four ISS co-sponsored events: in Florida, Niagara-on-the-Lake, Washington, D.C., and New York City.  Choice magazine has published roughly 200 of his book reviews.