Courses
Murder with Malice in Mind
We begin with our old friend Commander Adam Dalgliesh who is called upon to investigate the suspicious death of a celebrated investigative journalist, in the course of which yet another death occurs. With his usual finesse, Dalgliesh unravels the mysteries. And should you wonder anent his personal life, be of good cheer! From Cheverell Manor in Dorset we cross the Channel to Paris and Aimee Leduc, who with her associate Rene—he of the extraordinary computer skills—sets out to unravel the message on an old encrypted photograph, only to find herself in the Marais with a murder to solve and scars of WWII to salve. Then back across the Channel to London and our first association with Josephine Tey, as she seeks to bring literary closure to the execution in 1903 of two women convicted of "baby farming." While doing so she learns, painfully, that the story is far from complete and that murders now remain virtually inevitable. Then on to the Gaza Strip and Omar Yussef, a man of boundless humanity, who in the course of a routine inspection of United Nations schools is confronted with "the dark elements of Gaza—dirty politics, bribery, assassination and kidnapping" as he struggles to bring justice to the innocent and honor to the dead. And finally, and for the first time, an experience with Chief Inspector Armand Gamache, he of the Sûreté du Québec. Given an almost impossible assignment, one with impediments at each turn, he yet manages to enter the world of a secluded monastery marked by silence broken only by Gregorian Chants, and identify the monk capable of a murder, the motive for which lies in the shrouds of tradition. He faces as well the ill will and intervention of his superior at the Sûreté, a combination of authorities that would break a lesser man.
Instructor: Andrew De Rocco
Five Thursdays: October 13, 20, 27;
November 3, 10 | 7–8:30 P.M.
Wasch Center Butterfield Room | $110
This course is full and closed to further registrations.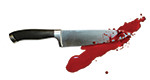 ANDREW DE ROCCO , former dean of the faculty at Trinity College, was subsequently president of Denison University and then Connecticut's commissioner of higher education. Prior to his affiliation with Trinity, he was on the faculty at the University of Michigan and Institute Professor of Molecular Physics at the University of Maryland, where, in addition to physics, he led, as part of the Honors Program, classes in contemporary American and European literature. The mystery novel caught his attention early, and each successive author has added yet another friend to the roundtable of criminal investigation.