Courses
Diego Rivera, Frida Kahlo, and Edsel Ford: Two Communists and a Titan of Capitalism Confront the Realities of the Modern Industrial Workplace and Make Great Art
In 1932, Diego Rivera and his wife, Frida Kahlo, both Mexican artists and committed communists, traveled to Detroit at the invitation of the Detroit Institute of Arts, so that Rivera could paint murals on the walls of the museum's great atrium. The commission was funded by Edsel Ford, president of the Ford Motor Company and son of Henry Ford. The unlikely partnership of the artists and Ford ultimately produced the Detroit Industry Murals—one of the great works of art in America. How did the personal histories of Rivera, Kahlo, and Ford intersect? How were the colossal murals produced? What happened to Rivera, Kahlo, and Ford after the project was completed, and what was the social and artistic impact of the murals?
Instructor: Richard Voigt
Five Tuesdays: September 19, 26, October 3, 10, 17
6-8 P.M. Butterfield Room
$170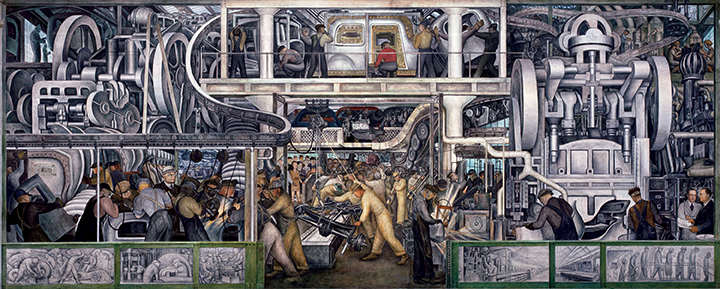 RICHARD VOIGT '68  graduated from the University of Virginia Law School. He served in the Office of the Solicitor, U.S. Department of Labor, before entering private practice in Connecticut, focusing on labor, employment, and other issues of the workplace. He is a partner in the firm of McCarter & English, LLC, and has often been recognized for this work, including in Best Lawyers in America. He lectures on American history, with a particular emphasis on the American workplace.