Multilingual Writers
When many of us hear the term multilingual writer, we may automatically think of international students or those who don't speak English as their first language. However, the term multilingual writers literally means anyone who can write in more than one language or more than one dialect of a language. Many famous authors, including Chinua Achebe, W.E.B. DuBois, Kahlil Gibran, Xiaolu Gou, Junot Diaz, Ariel Dorfman, Eva Hoffman, Kazuo Ishiguro, Jack Kerouac, Jhumpa Lahiri, and Vladimir Nobokov, are multilingual writers. Multilingual writers bring linguistic dexterity, multiple repertoires, and ways of expressing ideas to their writing. 
This webpage contains information about the differences in academic communication across cultures, strategies for building confidence and comfort in the classroom and on the page, and links to writing resources. While some of the resources are directed at non-native speakers of English, most are for anyone writing in a language other than their first.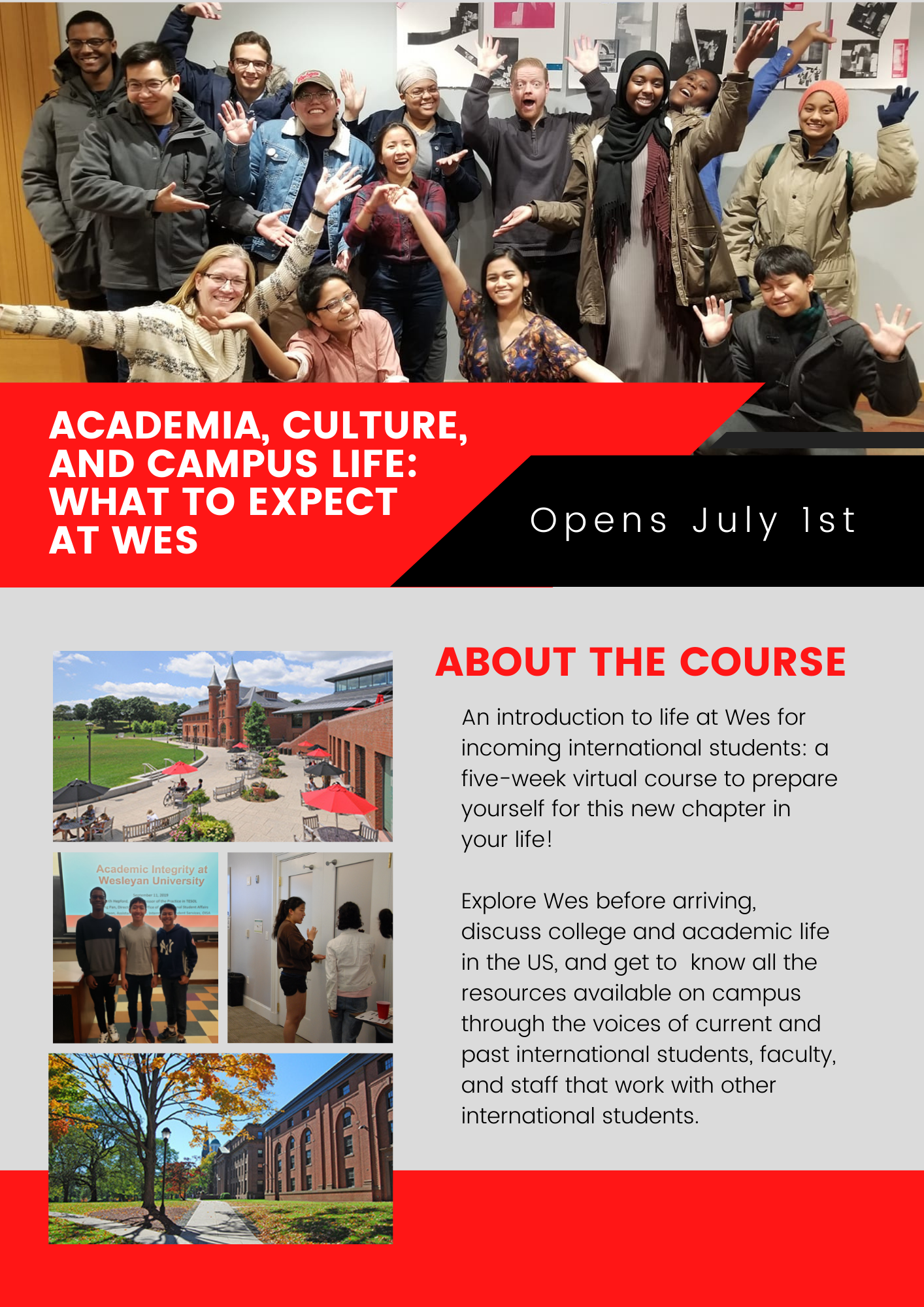 Available July 1st, 2022:
Academia, Culture, and Campus Life: An Online Resource for International Students
Welcome Wesleyan Class of 2026 international students! Based on the suggestions of current and past international students, we created an online course for you. Academia, Culture, and Campus Life combines the voices of faculty, staff, and students to tell you about campus resources, classroom tips, and beyond. The course on Coursera (free to all Wesleyan students). Here are instructions on how to enroll:
Obtain your wesleyan.edu email address. You cannot enroll in this course without it. 
Create a Coursera account using your Wesleyan.edu email address. If you already have a Coursera account with your Wesleyan email address, skip to step 3.

Enter your full name, your wesleyan.edu email address, and a password, and then click "Join for Free"
Existing Coursera accounts that do not use a Wesleyan email address will not have access to the student course

Confirm your email address following the instructions sent to you by Coursera via email
Log in to Coursera with your  wesleyan.edu email address
Access the Academia Culture and Campus Life using the following link:
https://coursera.org/groups/academia-culture-campus-life-bc6du/invitation

Click "Accept Invitation" and then click "Continue" to access and enroll in the course
In the future, you can go to the "My Courses" page on Coursera to find the course.
We hope to see you there! If you need help accessing or enrolling in Academia Culture and Campus Life, please email ehepford@wesleyan.edu.