Photographs after 1950
Later twentieth-century photographs in the DAC Collection range from well-known images from the 1950s and 1960s by street photographers such as Frank, Friedlander, and Winogrand, to images by Siskind, Erwitt, Arbus, De Carava, and Mark, to portfolios by Bravo and Bridges, and a variety of recent works.
Philip Trager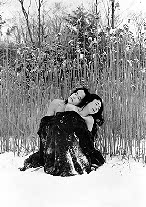 Philip Trager (American, born 1935), Eiko and Koma at Jacob's Pillow I, 1993, gelatin silver print (copy photo: Phil)
The DAC's holdings of more than 700 photographs by distinguished alumnus Philip Trager (born 1935, B.A. Wesleyan 1956) comprise a detailed overview of the photographer's career, from his early views of New England architecture, to New York and Wesleyan photographs, Palladian villas, dance subjects, and scenes from the series Paris along the Seine. The print reproduced above is one of forty given to the DAC by the artist in 1996, the year of his fortieth Wesleyan reunion.
Jim Dine
The Davison Art Center Collection includes nearly 300 photogravures donated by Jim Dine (American, born 1935) in honor of his close friend John R. Jakobson (B.A. Wesleyan 1952, LL.D. 1989, Trustee Emeritus). The DAC will hold a complete archive of the artist's work in this medium, which will complement the museum's holdings of more than 150 Dine prints dating from 1965 to the present.
Other Contemporary Photographs
In addition to works by Philip Trager and Jim Dine, contemporary photographs in the DAC Collection include images by Diane Arbus (2); Richard Avedon (4 portraits); Manuel Alvarez Bravo (portfolio of 15); Marilyn Bridges (portfolio of 16); Paul Caponigro (5 Cibachromes); Roy De Carava (3); Elliott Erwitt (30); Louis Faurer (40); Andreas Feininger (5); Larry Fink (portfolio of 15); Gus Foster (Point Sublime, Grand Canyon, a 365-degree panoramic color photograph); Robert Frank (Hoboken and New Mexico, from The Americans); Lee Friedlander (12); William Garnett (2 Cibachromes); Ralph Gibson (38); Emmet Gowin (11); Alex Harris (2); N. Jay Jaffee (29); Len Jenshel (1); Kipton Kumler (1); Danny Lyon (30); Mary Ellen Mark (portfolio of 10); Ray Metzker (8); Dorothy Norman (portfolio of 11); Eva Rubenstein (portfolio of 13); Stephen Shore (color portfolio of 12); Aaron Siskind (55); Jerry Uelsmann (7); Alex Webb (2); Garry Winogrand (28); and Tom Zetterstrom (7).
Conceptual Photographs
Conceptual and other recent images in the collection include works by John Baldessari (1); Lewis Baltz (8); Bernd and Hilla Becher (1); Chuck Close (Sunflower); John Coplans (1); Walter De Maria (2); Lyle Ashton Harris (Saint Michael Stewart); Leslie Krims (portfolio of 12); Barbara Kruger (1); Annette Lemieux (1); David Levinthal (3); Duane Michals (2, plus the set of 16 photographs for Private Acts, and 5 for Return of the Prodigal Son); John Pfahl (3); Richard Prince (1); Robert Rauschenberg (1); Gerhard Richter (Mao); Cindy Sherman (3); Laurie Simmons (1); Doug and Mike Starn (Large Mona Detail); and William Wegman (2).
Search the DAC Collection (public beta; may be offline for development 5:00-7:00 pm)