The Davison Art Center (DAC) holds Wesleyan's collection of more than 25,000 works of art on paper, chiefly prints and photographs. The print collection is among the finest at any U.S. university. The collection supports teaching and learning from objects in many ways, and the DAC gallery presents public exhibitions during the academic year. The links to the left lead to more information about the DAC collection and programs.
Northeast Small College Art Museum Association (NESCAMA) Statement on funding for the arts
Current Exhibition
Converging to a Center: Photographs from the Collection of Andrew Szegedy-Maszak and Elizabeth Bobrick
Friday March 31, 2017 - Sunday May 28, 2017
The gallery is now closed for the summer; recently on view: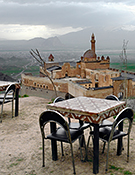 Photography has evolved dramatically since 1970, when Andrew Szegedy-Maszak started collecting. This exhibition at the Davison Art Center highlighted thirty-three photographs acquired in the last two decades, photographs that reveal the shift from the intimate scale of small black and white (gelatin silver) prints to immersive large-scale color digital images.
RELATED EVENTS
Reception and Gallery Talk
Thursday, March 30, 2017 at 5:00 pm
Conversation in the gallery at 5:30 pm with Andrew Szegedy-Maszak, Professor of Classical Studies and Jane A. Seney Professor of Greek, and DAC Curator Clare Rogan.
The Friends of the Davison Art Center held a benefit dinner after the reception. Please see the FDAC website for details.