The Davison Art Center (DAC) holds Wesleyan's collection of more than 24,000 works of art on paper, chiefly prints and photographs. The print collection is among the finest at any U.S. university. The collection supports teaching and learning from objects in many ways, and the DAC gallery presents public exhibitions during the academic year. The links to the left lead to more information about the DAC collection and programs.
Current Exhibition
Phantom Bodies: Photographs by Tanya Marcuse
Tuesday September 29, 2015 - Sunday December 13, 2015
Closed October 24–27 and November 23–29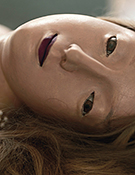 The DAC gallery is now closed. Opening September 29:
The exhibition Phantom Bodies: Photographs by Tanya Marcuse brings together haunting works evoking absent bodies, created in two series, Undergarments and Armor (2002–2004) and Wax Bodies (2006–2008).
Opening Reception and Artist's Talk

Tuesday, September 29, 2015, 5:00-7:00 pm
Artist's talk by Tanya Marcuse, 5:00 pm, CFA Hall
Reception follows at the DAC Gallery
Free of charge and open to the public
For more events, please visit the FDAC Website.
Press information is currently available from the DAC Curator. A link to a downloadable press release will appear here once it is available.