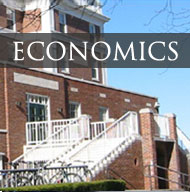 C9     Design of Experiments
D03   Behavioral Microeconomics
The Wesleyan University Economics Department invites applications for a tenure-track assistant professorship beginning July 1, 2015 from scholars with primary research interests in behavioral or experimental economics. Preference will be given to candidates with primary teaching interests in one or both of these areas along with other aspects of applied microeconomics, and candidates are expected to contribute to the Department's introductory and major core programs. A PhD anticipated by summer of 2015 is required. The teaching load is four courses per year. Wesleyan values both scholarship and teaching very highly, has a strong, diverse undergraduate student body, and offers a generous sabbatical program and competitive salaries and benefits.
To apply, visit https://careers.wesleyan.edu/postings/4554. Applicants should submit a curriculum vitae, three letters of recommendation, teaching evaluations if applicable and available, and a sample of scholarly writing via the online application process. Complete applications must be received by November 15, 2014 to be assured full consideration. Contact Gary Yohe, Department Chair, with questions at econsearch@wesleyan.edu.
Wesleyan University is an equal opportunity employer and does not discriminate against applications on the basis of age, race, color, religion, sex (including pregnancy), disability, national origin, ancestry, genetic information, sexual orientation, marital status and gender identity and expression.  We welcome applications from women and historically underrepresented minority groups. Inquiries regarding Title IX, Section 504, or any other non-discrimination policies should be directed to Antonio Farias, (860) 685-4771.