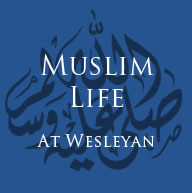 Muslim Students' Association
Salaam from the MSA! We have a very active group, which  sponsors activities including casual social events, community service projects, interfaith events, and many educational presentations throughout the year.  Also common are "Nights of Devotion," visits to the local mosque, and visits to Islam/Muslim related events in the New England area. Everyone is welcome, regardless of religious affiliation! Contact MSA Secretary Rizky Rahadianto (rrahadianto@wesleyan.edu) for more information or to join the mailing list!
Shura Council-Executive Board
President: Rizwan Syed- rsyed@wesleyan.edu
Secretary: Sifana Sohail- ssohail@wesleyan.edu
Treasurer: Alicia Strong- astrong@wesleyan.edu
Advisor - Kaiser Aslam- kaslam@wesleyan.edu
contact us!