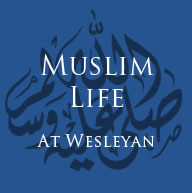 Muslim Students' Association
Salaam from the MSA! We have a very active group, which  sponsors activities including casual social events, community service projects, interfaith events, and many educational presentations throughout the year.  Also common are "Nights of Devotion," visits to the local mosque, and visits to Islam/Muslim related events in the New England area. Everyone is welcome, regardless of religious affiliation! Contact MSA Secretary Rizky Rahadianto (rrahadianto@wesleyan.edu) for more information or to join the mailing list!
Shura Council-Executive Board
Hichem Hadjeres- hhadjeres@wesleyan.edu
Mansoor Alam- salam@wesleyan.edu
Rizky Rahadianto- rrahadianto@wesleyan.edu
Ibraheem Khadar- ikhadar@wesleyan.edu
Adeel Zeb - Advisor- azeb@wesleyan.edu
Get to know some of us!
Name: Hira Jafri (Webmaster) 
Hometown: Middletown, CT
Class Year: 2013
Major: Psychology, certificates in Middle Eastern and South Asian Studies
Non-academic interests: Reading, Photography, Graphic Design, Travel, Sewing, Listening to Beyoncé
Why I chose Wes: Wes has always been a part of my life- from the time I was in elementary school and had a Russian tutor come over and teach us weekly- to when I was in high school and went to art camp here. It introduced me to things I wouldn't have seen or heard elsewhere, and I loved it all.
What Hogwarts house would you be sorted into?: I would probz be a Ravenclaw. But Gryffindor's house colors are so much cooler. I would be a Gryffindor just to rock that Gold n' Red.




Name: (Syed) Mansoor Alam
Hometown: Cheshire, Connecticut
Class Year: 2015
Major: Economics, History 
Non-academic interests: Everything Geek. Reading countless books on economic theory for fun. Traveling [everyone says this but oh well, it's a good interest]
Favorite thing about Wesleyan's MSA: The diversity of where we are all from and how we have all grown up with islam in our lives. 
Favorite Thing About Wes: The window to Professor Steele's Harry Potter class. 


 




Name: Gaby Chavez
Hometown: Costa Mesa, CA
Class Year: 2013
Major: Religion
Non-academic interests: Traveling, Drinking iced Coffee, Reading, Watching Soccer, Learning About Different Religions
Favorite thing about Wes: I love Wesleyan because it has become my home. I love the people here and how friendly, awesome and down to earth they are, even though they're still be some of the most genius people I have ever met in my life. I'm incredibly sad that this is my last year but I hope to make the most of it!
Favorite thing about Muslim Life/MSA: I love the diversity of Muslims that are at Wesleyan. It creates an amazing dynamic of opinions, thoughts and ideas that continue to challenge me to think about my religion. Wes is the ideal place for me to cultivate my identity and to have an awesome, supportive community to do it in.
Favorite movie of all time: Bend it Like Beckham: finally a girl playing soccer! (and the only "chick flick" that my soccer coach dad didn't fall asleep during while watching with me!)






Name: Tara Farheen Hoda
Hometown: White Plains, NY
Class Year: 2015
Major: Undecided, but probably Government
Non-academic interests: Swimming, Clarinet, Hiking, Travel
Why I chose Wes: Small liberal arts college, unique student body. My sister also went here and was OBSESSED.
"But Tara, are you REALLY Muslim?": Yes, I was raised Muslim and I classify myself as a culturally Muslim, religiously pondering individual. 


Name: Rashedul Haydar
Hometown: Norwich, CT
Class Year: 2014
Prospective Major: Biology, Physics and also interested in the 3/2 Engineering Program
Non-academic interests: Academic clubs, MSA, Tennis
Why I chose Wes: The 3/2 Engineering program, really good financial aid. I also had a teacher that attended Wesleyan for undergrad, and really loved it here.
Favorite number?: Pi, its tastiness is irrational!

Name: Zainab Khan
Hometown: Schaumburg, Illinois
Class Year: 2013
Major: Economics, certificate in Middle Eastern Studies
Non-academic interests: Cooking, Watching Basketball, Organizing, Walking
Why I chose Wes: I fell in love with the idea that every student at Wesleyan is not only extremely intelligent, but also curious and motivated.
Best NBA team?: CHICAGO BULLS(w/ the LAKERS as a close second).

 

Name: Rabia Shahid
Hometown: Lahore, Pakistan
Class Year: 2013
Major: Government
Non-academic interests: MSA, PSA, Model UN, SHAKTI, Woodrow Wilson Debating Society (I might be more active with them this year). Plus I enjoy playing squash and bluff (LOL).
Favorite thing about Wesleyan's MSA: Very very diverse in terms of ethnicity, nationality, level of 'religiosity' per se. It's small and active. So I feel close to all the members and I hang out with most of them outside of the meeting sphere as well, plus I get to have a say in matters.