Studying Abroad in Russia
Wesleyan students interested in studying abroad in Russia should consult Wesleyan's Office of International Studies for general information about studying abroad as well as more information on applying to a Wesleyan-approved program in Russia. See some photos below of Russian students' study abroad experiences.
---
Chris Wade
My name is Chris Wade, Class of 2012. I am a COL major and studied abroad my sophomore spring in St. Petersburg on the Bard-Smolny Program. I lived in a dorm in the Primorskaya region of the city with three Russian roommates and another roommate from South Korea. I had a fantastic time, and I would love to go back after I graduate!
Link to department presentation:
http://condor.wesleyan.edu/media/lrc/video/chris.qtl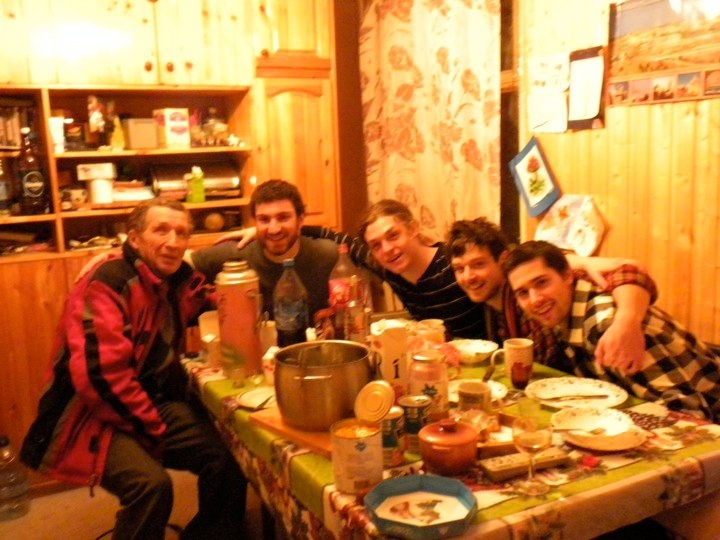 At the dacha of my friend's host father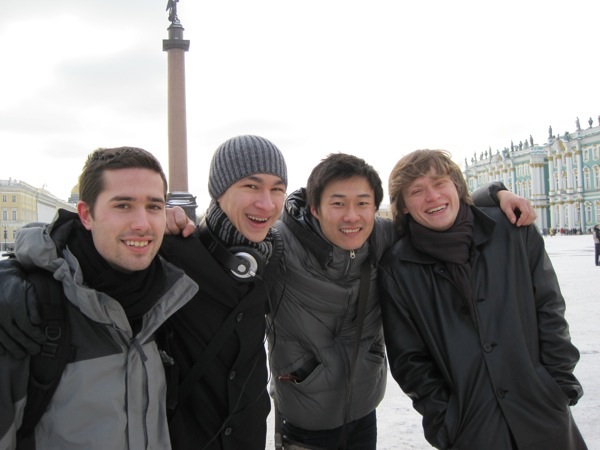 My roommates and I outside the Hermitage (from left to right): Me, Sergei (Russian), Chi-Yun (South Korean), and Nikita (Russian)
Kaitlin Martin, Bard-Smolny Program, St. Petersburg, 2010
My name is Kaitlin Martin, Class of 2011. I am a Government major and spent the spring semester of my junior year in Irkutsk, Russia on the School of Russian and Asian Studies (SRAS) study abroad program. As a part of the program, I studied within the international department of Irkutsk State Linguistic University (IGLU) and lived on the international floor of a student dormitory. During my time abroad, SRAS set me up with an internship with Great Baikal Trail (GBT), a local environmental organization that advocates for sustainable development on Lake Baikal. On weekends, I traveled to various locations on Lake Baikal with my new international and Russian friends. After graduation, I hope to return to Russia to teach English and brush up on my language skills.
Link to department presentation:
http://condor.wesleyan.edu/media/lrc/video/kaitlin.qtl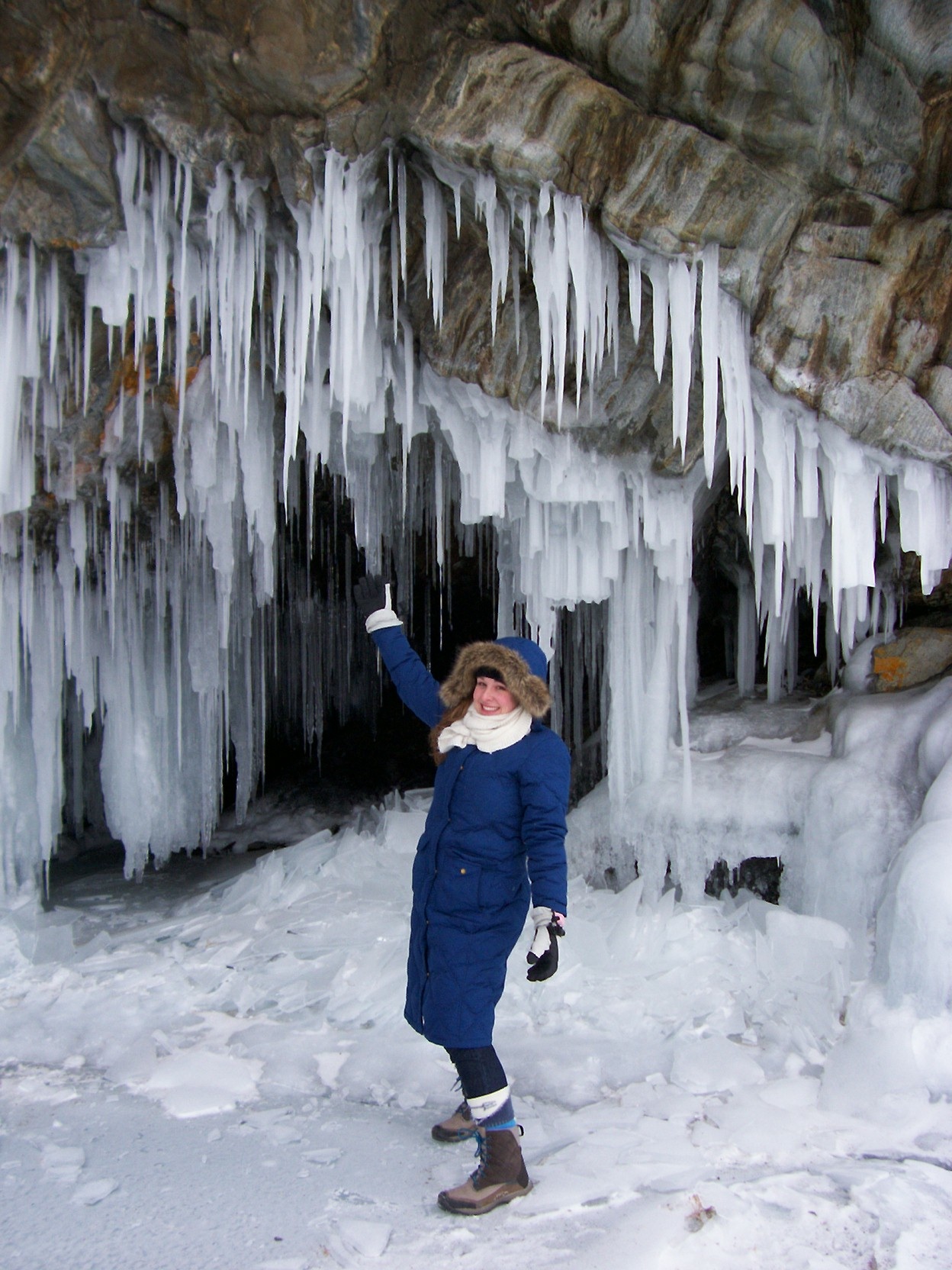 Me, Olkhon Island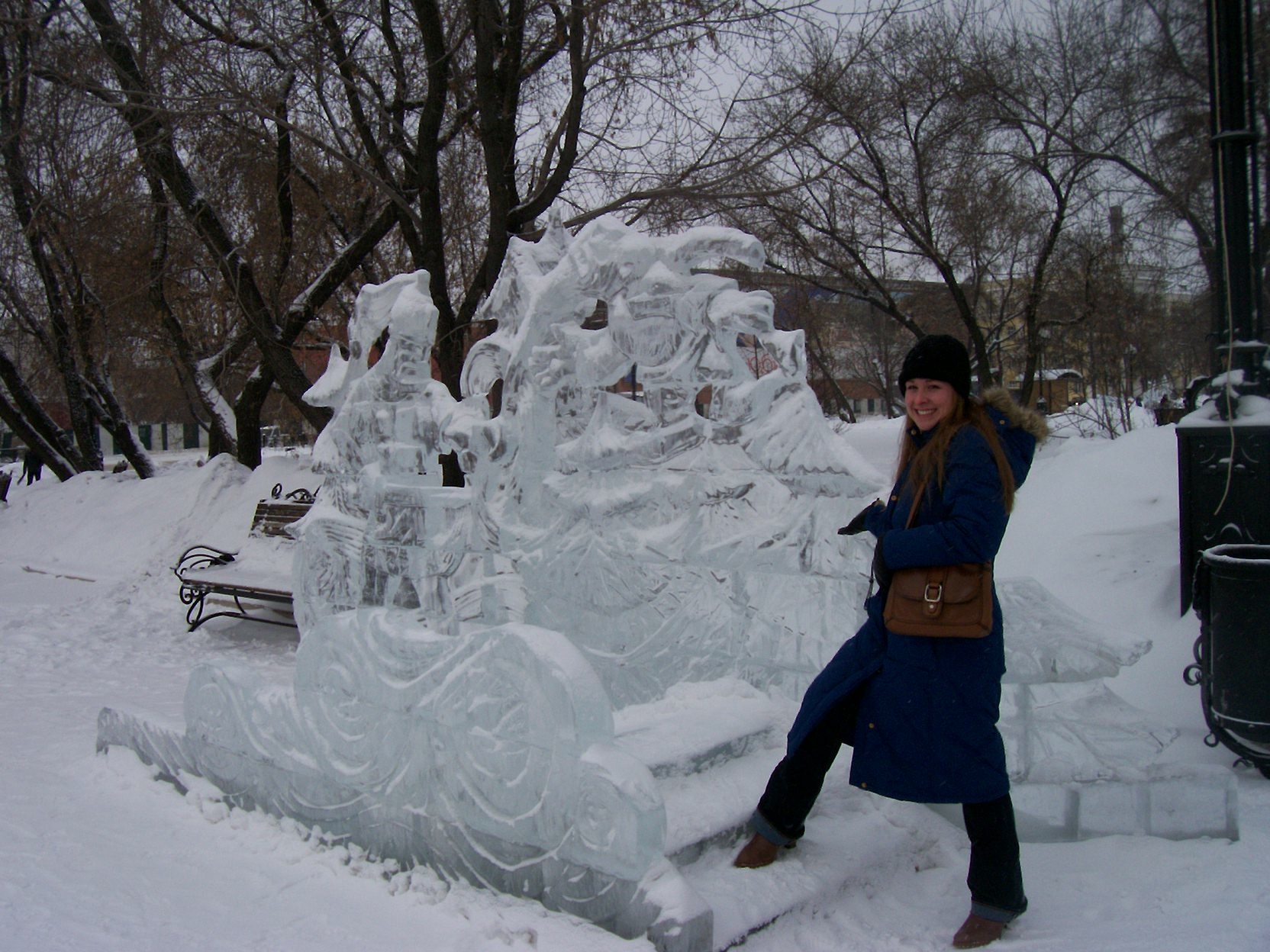 Me, Kirov Square, Irkutsk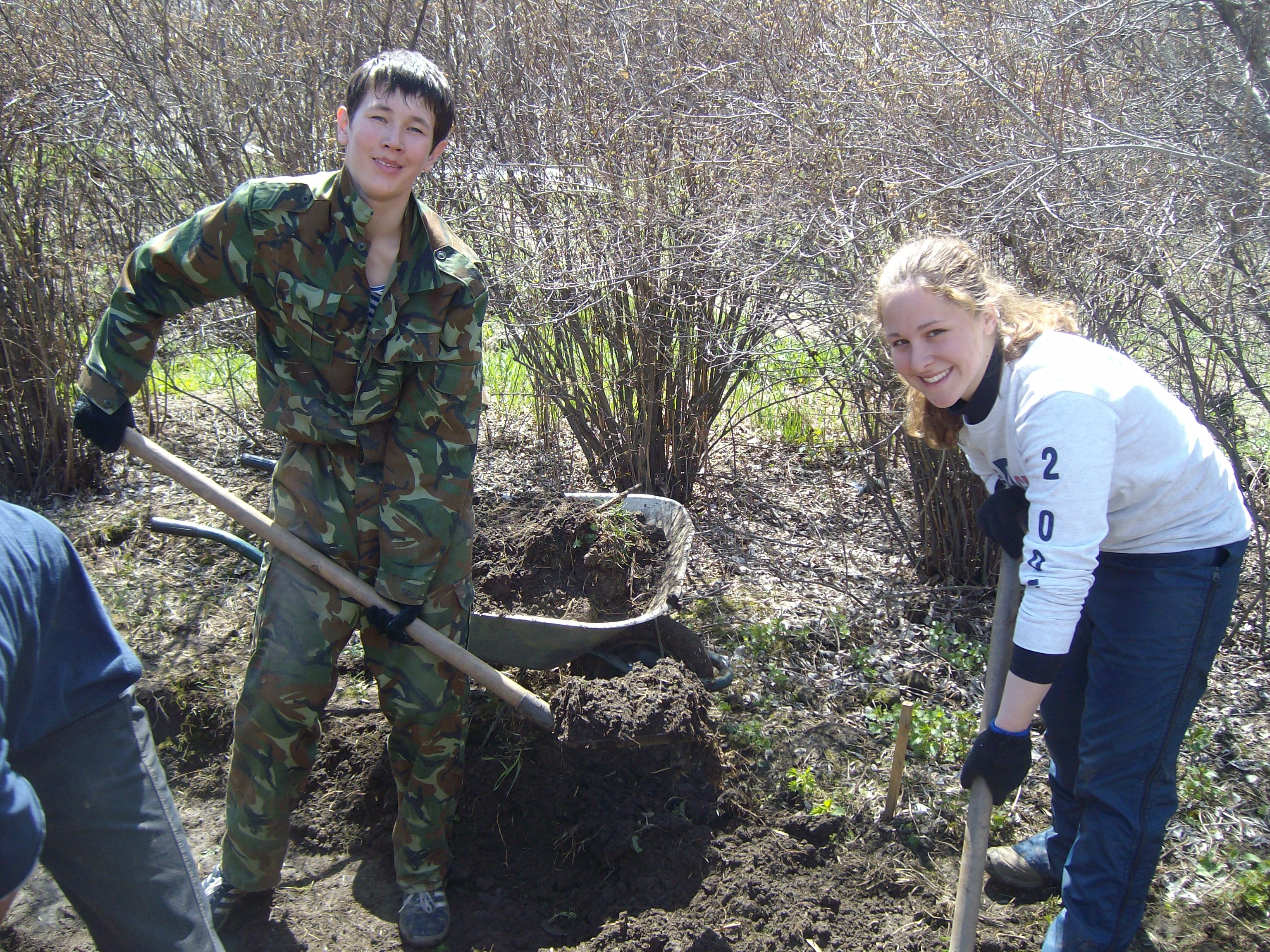 Me and russian student, GBT project at Botanical Garden in Irkutsk
Elizabeth Trammel, Irkutsk (2009) and my time abroad this August 2010
My name is Elizabeth Trammell, and I graduated from Wes in 2010. I spent my junior spring abroad in Irkutsk through SRAS (the School for Russian & Asian Studies). In addition to taking classes at Irkutsk State Linguistic University, I interned with Great Baikal Trail (GBT), an environmental organization that promotes environmental education and ecotourism in the Baikal region.
My experience abroad helped inform my senior thesis ("Russian Political Reactions to a Changing Climate: Environmental Cases in the Arctic and Siberian Hydrosphere") which was awarded high honors in both Government and Russian & East European Studies. After graduating, I entered a master's program in Russian & East European Studies at Indiana University. In August 2010, I traveled to Western Siberia on an environmental fieldwork program to study environmental problems in Tyumen and Khanty-Mansiysk.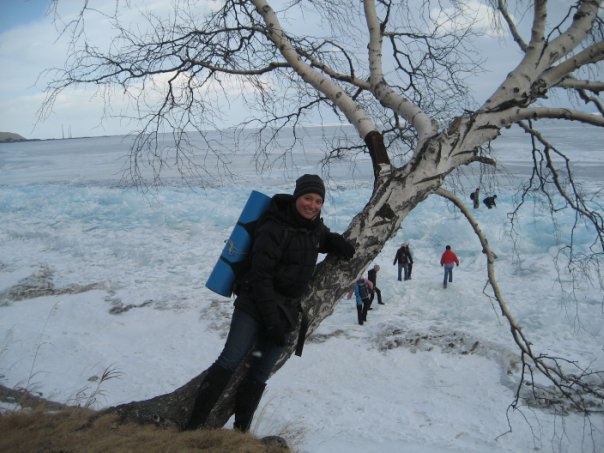 An environmental education hiking trip with to Bolshoe Golustnoe on Lake Baikal in March 2009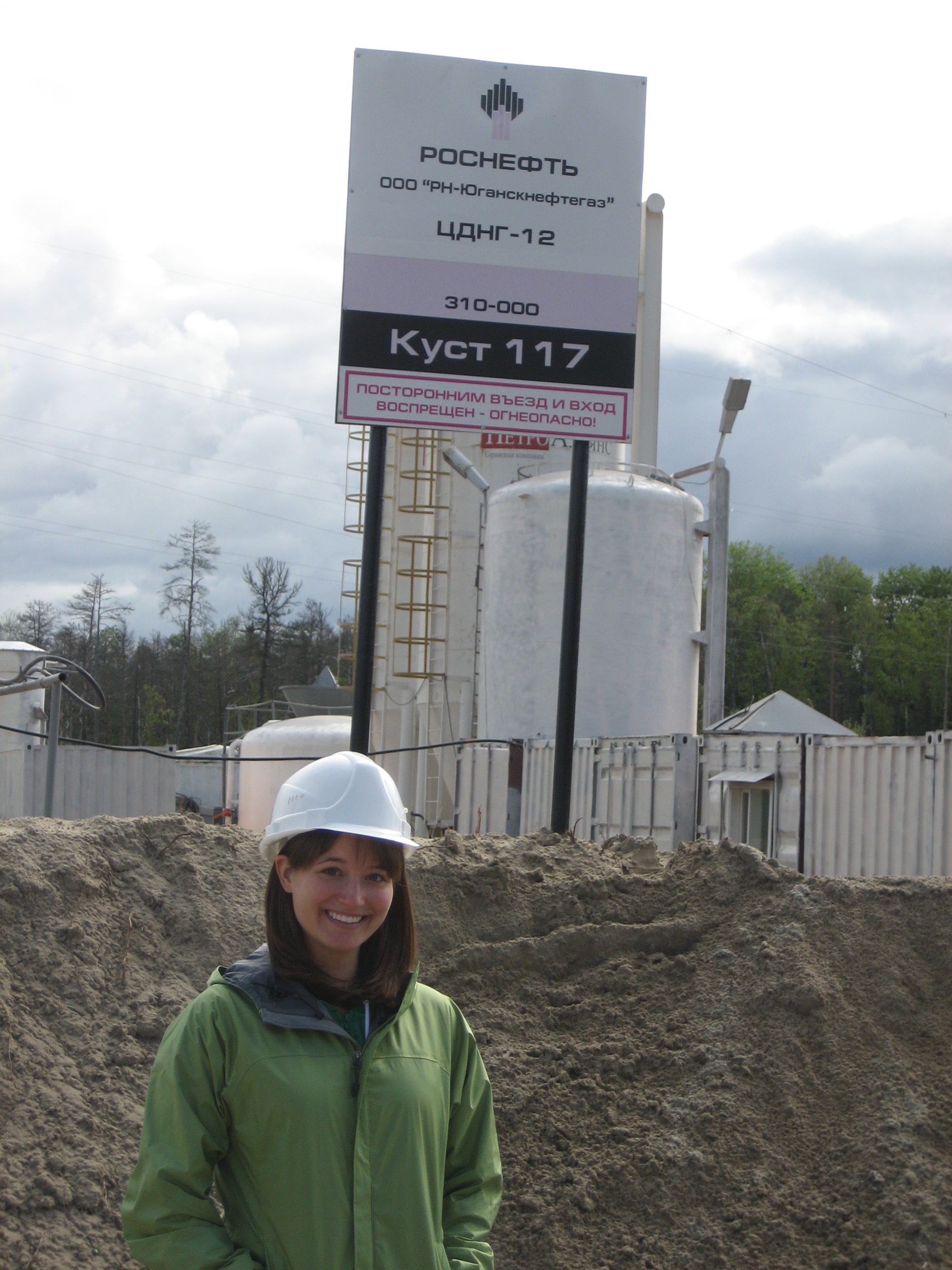 At the entrance to a Rosneft oil drilling site near Khanty-Mansiysk in August 2010
Josh Walker
My name is Josh Walker and I have just graduated.  My time in Russia was an amazing experience and I have since returned last summer to do research and I plan on spending the next year or two there as well.  I studied for a semester at Hertzen University in St. Petersburg and lived with a host family, the Ustinovs on Petrogradskaya Storona.  This picture is of myself (center) with friends.  Tim (American - left), Michael (American), Sergei (Russian), and Orjan (Swedish) near Sochi.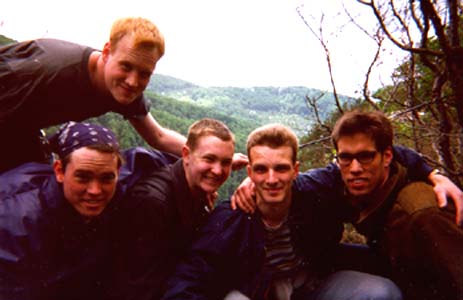 Sasha Rudensky '01

Sasha took these black and white photos while travelling in Russia during the summer of 2000.




 
Danielle Lussier '98 
My name is Danielle Lussier and I spent a semester in Yaroslavl on the American Collegiate Consortium program. Yaroslavl is an excellent city filled with history, culture, art, and wonderful people. It's a traditional Russian city complete with gold domed churches and streets lined with birch trees. Yaroslavl is the place to go if you really want to learn Russian language and culture. Don't forget to check out the Volkov Theater, the Volga Embankment, and Soviet Square. 
Danielle Lussier '98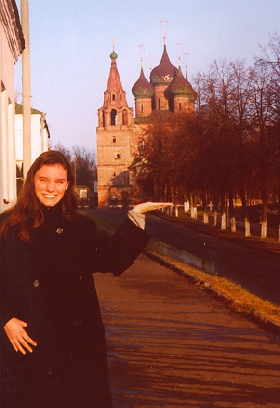 Caitlin Plummer '98
I participated in the Virtus Institute program in Russia. I was with 18 other Canadians and Americans and we travelled to Nizhni Novgorod, St. Petersburg, Chileyabinsk, and Moscow. We lived in each city with families for one month, and we really got to see "Russia As She Is." It was an amazing experience. 
The picture shows the statue Old Man with a Golden Fish in Moscow.
Caitlin Plummer '98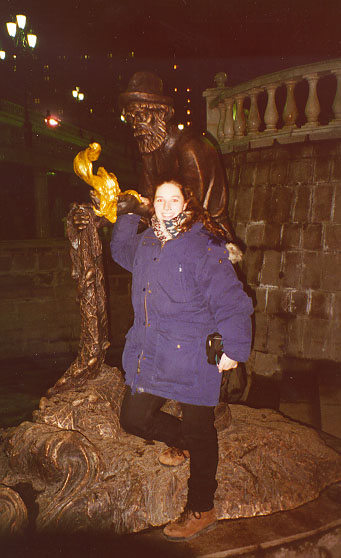 Jesse Vincent '98

I spent last semester studying at Moscow State Linguistic University in downtown Moscow. Academics there are quite good and social opportunites in Moscow are unparalleled in Russia. . . despite what anyone who has studied elsewhere may tell you ;) Life in the big city is quite a change from Middletown and is really worth it.