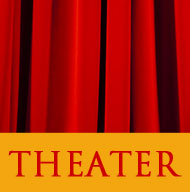 Current News
Ken Barnett '94 cast in new musical at The Public Theater

Wesleyan Theater alum Ken Barnett '94 has been cast as Abraham Ebdus in the world premiere of a new musical The Fortress of Solitude at The Public Theater, which opens officially on October 22, 2014. Conceived and directed by Daniel Aukin, the production will continue through Nov. 2.

Single tickets, starting at $80, are on sale now and can be purchased by calling (212) 967-7555, www.publictheater.org, or in person at the Taub Box Office at The Public Theater at 425 Lafayette Street.

Emma MacLean '14 - Huffington Post features recent grad's thesis

Focusing on how disability is represented in theater, Emma MacLean's thesis topic has garnered national attention from the widely-read liberal online media site, The Huffington Post. The article was written by MacLean and was posted as part of the HuffPost College Thesis Project, which gives students a chance to share the fruit of their hard academic work with a wide audience.

MacLean's oeuvre, which received High Honors, will be posted to Student Thesis library soon. 

Emma MacLean is a Phi Beta Kappa member, and was awarded the Theater Department's Outreach and Community Service Award.

Kaneza Schaal '06 - Spring 2014 Residency

Theater artist Kaneza Schaal completed a five week residency program with the Baryshnikov Arts Center in New York City. As a Princess Grace Foundation-USA Works-in-Progress Resident Artist, Schaal used the Egyptian Book of the Dead as a point of departure to investigate the traditions of burial and grief through an intricate architecture of visual projections, light, and sound. Her residency work included development of her first evening length piece entitled Please, Bury Me, which will be presented at Performance Space 122 (PS122.org) through the RAMP residency program with support from a 50th Anniversary Grant from the Jerome Foundation.

To read more about her residency click here: http://www.bacnyc.org/residencies/resident/kaneza-schaal

Click here to see a video conversation with the artist: http://vimeo.com/88356603 

For more information/tickets for the upcoming performance at Performance Space 122: http:www.ps122.org/kaneza-schaal/  

Roberta Maia Pereira '03 publishes The Untold Stories of Broadway with Dress Circle Publishing

Released on October 13, 2013, The Untold Stories of Broadway scores a front row seat to hear hundreds of stories about the most important stages in the world, seen through the eyes of the producers, actors, stage hands, writers, musicians, company managers, dressers, designers, directors, ushers, and door men who bring The Great White Way to life each night. This is the first book in a multi-volume series that will tell the stories of all of the Broadway houses. Volume 1 includes the Winter Garden, the Richard Rodgers, the Marriott Marquis, the Al Hirschfeld, the Neil Simon, the August Wilson, the Mark Hellinger, and the Lyceum: eight Broadway theaters that light up New York City. Also featured in the book is fellow alum Lin-Manuel Miranda '02, also pictured with the author of the book, Jennifer Ashley Tepper.

Pereira is Managing Director of the boutique publishing company, Dress Circle Publishing, co-founded with fellow Broadway producer Brisa Trischero in 2011.

Click here for ordering information for The Untold Stoies of Broadway. 

Click here to read a March 2014 interview with Pereira featured in the Wesleyan Alumni Newsletter.

Shaw featured in book release on Black Theater and Dance in Chicago

The November 30, 2013 publication of Black Theater Is Black Life: An Oral History of Chicago Theater and Dance, 1970-2010 features interviews with prominent producers, directors, choreographers, designers, dancers, and actors. Included among them is Rashida Z. Shaw '99, Assistant Professor of Theater, who shares her observations as a researcher, ethnographer, and audience member who has attended urban theater productions in Chicago.

For more information on the publication, click here.

Oteiza selected to showcase her work during World Stage Design 2013

Assistant Professor of Theater, Marcela Oteiza, was slected as one of 100 international designers who will showcare their work during the 10-day celebration of performance design at WSD2013; the event runs from September 5-15 in Cardiff, Wales.

Event Website: www.wsd2013.com

 

 

Kordonsky directs Chekhov's The Seagull at the German State Theater, Timisoara


Yuri Kordonsky, Associate Professor of Theater, directed Anton Chekhov's The Seagull at the German State Theater in Timisoara, Romania. The opening took place March 9, 2013.

To visit the production's page with reviews and a photo gallery, click here.

To watch a trailer, click here.

A Threesome by Christopher Correa '10

Christopher Correa '10 wrote and directed this short movie starring Rikki Goldenberg '09 and Edward Bauer '08. The director of photography was Gabe Elder '11.

Here is the link to the six minute movie:  A Threesome

 

Kaneza Schaal Selected Short reading on WSHU

True Selves/Hidden Selves

"Guest host BD Wong presents tales in which identity is questioned, and true selves are revealed. Karen Russell's 'Reeling for the Empire,' is an eerie take on the idea of exploited workers. It's read by Kaneza Schall." 

http://www.selectedshorts.org/onair/

 

 

Cheryl Tan '11 performs at Mezze Lounge

Read more:

 

Weekend date: Evening of jazz - Showbiz - New Straits Times

 

http://www.nst.com.my/life-times/showbiz/weekend-date-evening-of-jazz-1.210874#ixzz2K3LewyAg

Food Play by Tess Jonas '15 Under Consideration for National John Cauble Short Play Award

The play is a one-act written in Quiara Alegria Hudes' Advanced Playwriting Workshop last spring.

Food Play was accepted to the Kennedy Center American College Theater Festival and is also under consideration for the National John Cauble Short Play award. It will be cast, rehearsed, and given a concert reading during the KCACTF 2013 Region 1 Festival in Hyannis, MA from January 29-February 2. Two national semi-finalist plays will be announced at the festival.

Shaw provides insight on gospel musical theater

Rashida Z. Shaw '99, Assistant Professor of Theater, discusses the relationship between theater and religion in the Milwaukee Journal Sentinel. Click here to read the interview.

Shaw offers critique on Tyler Perry and his work

The website, In Media Res: A Media Commons Project recently devoted a week recently to Tyler Perry during which scholars offered their critique and comments on different aspects of Perry and his work. Rashida Z. Shaw '99, Assistant Professor of Theater, offers her views in a piece titled, Performance Politics: The Subversive Pleasure of Perry - click here to read her post.

Oteiza designs set for the Judy Dworin Performance Project Ensemble

Marcela Oteiza, Adjunct Associate Professor of Theater and Secnic Designer in Residence at Wesleyan University has designed the set for Meditations from a Garden Seat opening today at the Charter Oak Cultural Center in Hartford. To read the Hartford Courant article about the show, click here.

Mediations from a Garden Seat is performed at 7:30 pm, Nov. 1-3 at Charter Oak Cultural Center, 21 Charter Oak Avenue, Hartford, CT

 

Anthony Nikolchev '08 brings new original solo performance to 2012 New York City United SOLO Theatre Festival

Anthony Nikolchev '08 returns for a second year to the United SOLO Theatre Festival -- the largest international solo performance festival in the world -- with his play The Echoes off the Walls Underground are Louder than Your Footsteps Above Me. Following his last year's Best Actor award, the festival invites him for two dates as part of the Encore group. Anthony reunites with Wesleyan University Theater Department Professors, Yuri Kordonsky as co-director and Jack Carr as lighting designer, in addition to co-director Matej Matejka, Anthony's director of the Studio Matejka - a physical theatre ensemble with whom he works based in Wroclaw, Poland at the Jerzy Grotowski Institute.

For tickets and more about the United SOLO Theatre Festival, click here.

To visit Anthony's website, click here.

 

The Assembly Theater Project (Nick Benacerraf '08, Jess Chayes '08 and other Wes alumni) has show at the Living Theater

 HOME/SICK
November 1-18, 2012 (Wed-Sat @8 pm, Sat @ 3pm, Sun 11/11 @ 7pm, Sun 11/4 & 11/18 @ 5 pm)
The Living Theater
21 Clinton Street, NY, NY

Following two sold-out runs, the innnovative young company The Assembly Theater Project presents a return engagement of the critically acclaimed production HOME/SICK. HOME/SICK is an ensemble-devised work of political theater that reimagines the actions fo the 1960s radical group The Weather Underground. Believing violence to be the only means to a true and lasting peace, these passionate idealists accelerated a movement to its fervor, but left a country behind. Based on real events, HOME/SICK explores the group's idealism, infighting and ultimate disintegration, in a forthright examination of collective action.

HOME/SICK was a Critics' Pick in Backstage and the New York Times, and prompted the Times to name it"A cutting-edge young theater collective."

To visit The Assembly's website, click here.

Russian Premiere of Crime and Punishment at Volkhonka Theatre

During the summer of 2102, Professor Yuri Kordonsky directed the Russian premiere of his adaptation of Crime and Punishment at the renowned Volkhonka Theatre in Ekarerinburg, Russia. The production was designed by Professor John Carr. This play was originally done by the Theater Department and is also running at the famous Bulandra Theatre in Bucharest, Romania. Click this link to hear a Russian news clip about the show.

 

Ari Brand '06 to star Off-Broadway in My Name Is Asher Lev

Ari Brand '06 will star in the New York premiere of My Name Is Asher Lev, Off-Broadway at the Westside Theatre this November. The play, based on the 1972 book by Chaim Potok, tells the story of a young artistic prodigy growing up in the Hasidic Jewish community of Crown Heights, Brooklyn in the 1950's. The production is a transfer of the Long Wharf Theatre's critically acclaimed run, also starring Brand, which opened this past May in New Haven. This will be Brand's third Off-Broadway credit, following last year's Black Tie at Primary Stages and the Public Theatre's Shakespeare in the Park production of Romeo and Juliet in 2007.

For tickets, go to www.asherlevtheplay.com

For more about Ari, go to www.aribrand.com

Hunger by Anna Moench '06 is featured at the Playwright's Week at the Lark

Anna Moench '06 is a Jerome Fellow at the Playwrights' Center in Minneapolis and a Van Lier Fellow at the Lark Play Development Center in New York City. Her plays have been seen at the Old Vic, 59E59, Ensemble Studio Theatre, The Flea, Indiana University of PA, Dance Theater Workshop, Dixon Place, The Kraine, The Looking Glass Theatre, and FringeNYC. Anna has developed plays with The Public Theater, The Lark, [the claque], 3Graces Theater Co., the Great Plains Conference, the Last Frontier Conference, the Sewanee Writers' Conference, and The Inkwell.

Anna's play Hunger is included in the Playwrights' Week 2012 at the Lark Play Development Center.
Directed by Robert Ross Parker
Puppetry by Stefano Brancato
For more information about the Playwright Week, click here.
To visit Anna's website, click here.

Kordonsky's Productions Win Two UNITER Awards in Romania

April 23, 2012

Out of four nominations for the UNITER Award in Romania – the highest national theater award in the country – Yuri Kordonsky's productions won two. One of them is The Best Production Award for The Last Day of Youth based on Tadeusz Konwicki's novel (National Theater Radu Stanca, Sibiu, Romania); another is Best Leading Actress (Mariana Mihut) for Bury Me Under the Baseboard by Pavel Sanaev (Bulandra Theater, Bucharest, Romania). The latter production was created in collaboration with lighting designer and theater professor John Carr. To see a video clip of The Last Day of Youth, click here (website in Romanian).

Jenkins Brings Dante, Theater to Prison Inmates

Apr. 20, 2012 by David Pesci

A news report for WNPR features the work of Ronald Jenkins, professor of theater, who has worked with prison inmates around the world, bringing classic works of drama and literature, including Dante's Inferno. The report focuses on a new play by Jenkins that is being performed by former inmates from the York Women's Correctional Facility in Connecticut. The play has been performed in Hartford and will be performed in New York City. To read the full article, click here.

Hudes Awarded Pulitzer Prize for Drama

Apr. 17, 2012 by David Pesci

The Associated Press reports that Quiara Alegria Hudes, visiting writer in theater, has won the Pulitzer Prize in Drama for her play "Water by the Spoonful," which chronicles the struggles of an Iraq vet. The play had its debut this past fall at The Hartford Stage Company in Hartford, Conn. Hudes is also the writer of the book for the Broadway show "In the Heights," which was created by Lin-Manuel Miranda '02. To read more, click here. 

Four award nominations for Yuri Kordonsky's productions

Bury Me Under the Baseboard

Last Day of Youth

March 27, 2012

Two productions directed by professor Yuri Kordonsky in 2011 in Romania received four nominations for the UNITER awards - highest Romanian national theater award granted by the Union of Romanian Theaters. The nominations include The Best Production and Best Set Design for Last Day of Youth based on Tadeusz Konwicki's novel (National Theater Radu Stanca, Sibiu, Romania) and Best Leading Actor and Best Leading Actress for Bury Me Under the Baseboard by Pavel Sanaev (Bulandra Theater, Bucharest, Romania). The latter production was created in collaboration with lighting designer and theater professor John Carr.