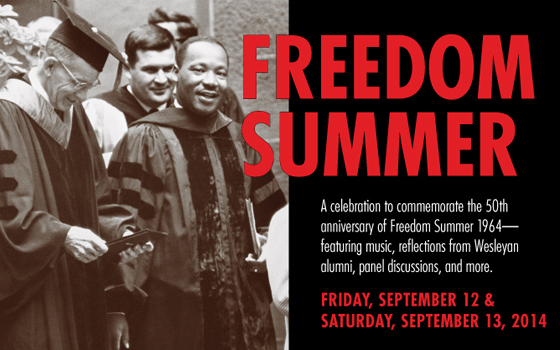 Civil Rights Activism and Wesleyan
Friday, September 12, 2014 at 3:00pm
Special Collections and Archives, Olin Memorial Library, 252 Church Street
FREE!
An exhibition featuring historic Civil Rights-era Wesleyan materials, documents, and photographs.
On display Friday, September 12, 2014 from 3pm to 5pm; and Saturday, September 13, 2014 from 9am to Noon.
Image: On June 7, 1964, the Rev. Dr. Martin Luther King Jr. received an honorary degree and delivered the baccalaureate sermon at Wesleyan University. Shown here are Pres. Victor L. Butterfield and Dr. King, with Dr. King's friend and Wesleyan Prof. of Religion John Maguire behind them. Photo courtesy of Special Collections & Archives, Wesleyan University.