The Davison Art Center (DAC) holds Wesleyan's collection of more than 25,000 works of art on paper, chiefly prints and photographs. The print collection is among the finest at any U.S. university. The collection supports teaching and learning from objects in many ways, and the DAC gallery presents public exhibitions during the academic year. The links to the left lead to more information about the DAC collection and programs.
Current Exhibition
Special Installations: Entering Edo and Find Me Unafraid
Thursday September 5, 2019 - Thursday September 26, 2019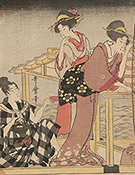 The DAC begins the fall with two special installations: Entering Edo: A World of Pleasure, and Find Me Unafraid.