The Davison Art Center (DAC) holds Wesleyan's collection of more than 25,000 works of art on paper, chiefly prints and photographs. The print collection is among the finest at any U.S. university. The collection supports teaching and learning from objects in many ways, and the DAC gallery presents public exhibitions during the academic year. The links to the left lead to more information about the DAC collection and programs.
Current Exhibition
Gallery is currently closed
Thursday January 2, 2020 - Monday January 2, 2023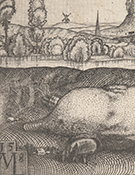 The Davison Art Center gallery is currently closed as staff are engaged in moving the collection to new facilities and in planning a new gallery.

In the meantime, we invite you to explore the Davison Art Center collection online and to return to this site for updates.

You may also support the Davison Art Center with a financial gift. Donations may be made through the Wesleyan University Friends of Arts and Letters, and you may direct your gift to the Davison Art Center specifically.