The Davison Art Center (DAC) holds Wesleyan's collection of more than 25,000 works of art on paper, chiefly prints and photographs. The print collection is among the finest at any U.S. university. The collection supports teaching and learning from objects in many ways, and the DAC gallery presents public exhibitions during the academic year. The links to the left lead to more information about the DAC collection and programs.
Current Exhibition
Bestiary
Friday February 8, 2019 - Thursday March 7, 2019

The gallery is now closed; recently on view: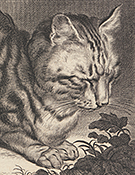 Bestiary took its inspiration from medieval compendia of wondrous creatures, both natural and fantastic. Bestiaries defy modern book genres; they blend moralizing tales, natural history, and fascinating images of non-human animals to astonish and entertain.
Related Event
Opening Reception and Gallery Talk
Thursday, February 7, 5:00–7:00 pm
Gallery talk at 5:30 pm by Professor Kari Weil, author of Thinking Animals: Why Animal Studies Now (Columbia, 2012)