The Davison Art Center (DAC) holds Wesleyan's collection of more than 25,000 works of art on paper, chiefly prints and photographs. The print collection is among the finest at any U.S. university. The collection supports teaching and learning from objects in many ways, and the DAC gallery presents public exhibitions during the academic year. The links to the left lead to more information about the DAC collection and programs.
Current Exhibition
For Effect: Emphatic Bodies from the Renaissance to the Industrial Age
Friday April 5, 2019 - Sunday May 26, 2019

The gallery is now closed for the summer; recently on view: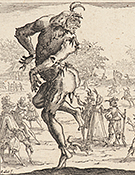 From eye rolls to crude hand gestures to statement jewelry—we exaggerate with our bodies as much, if not more so, than with our words.
For Effect
presented bodies exaggerated in their accouterments, pose, and anatomical proportion from the sixteenth through the nineteenth centuries.
Related Event
Opening Reception and Gallery Talk
Thursday, April 4, 5:00–7:00 pm
Gallery talk at 5:30 pm


The opening reception was co-sponsored by the Wesleyan University Center for the Humanities in connection with the spring theme Hyperbole: Sense, Sensation, Spectacle.