Old Master European Prints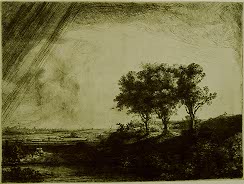 Rembrandt Harmensz van Rijn (Dutch, 1606-1669), The Three Trees, 1643, etching, drypoint, and engraving; plate 212 x 280 mm.; Bartsch 212 (photo: Phil)
Among the DAC's holdings are many prints by European Old Masters, including Northern and Italian artists working in printmaking techniques that ranged from woodcut to engraving.
Early Prints, 1460-1490
Among the 15th-century European prints in the collection are works by anonymous artists, or by various artists known as "Master" or "Monogrammist," including Master ES (Calvary, the only impression in a U.S. collection); Master IAM of Zwolle; Master IB with the bird; Master MZ; Master of St. Erasmus; Master WH; Monogrammists HCZA, AF, DS, HCF, and others. Known artists include N. Mair von Landshut; Wenzel von Olmütz; Martin Schongauer; and Michael Wolgemut.
Prints by Albrecht Dürer & his contemporaries
The DAC collection's more than 70 woodcuts and engravings by Albrecht Dürer (1471-1528) represent the full range of his career as printmaker. Among the woodcuts are an early example from the Ship of Fools; the small and large Passion series; prints from the Apocalypse; Hercules Conquering Cacus; Portrait of Ulrich Varnbühler; St Jerome in His Cell; and The Last Supper. The engravings include the Prodigal Son; Holy Family with the Dragonfly; Hercules at the Crossroads; St. Eustace; Apollo and Diana; the 3 "Meisterstucke" (Melencolia I; Knight, Death, and the Devil; St. Jerome); Adam and Eve; The Nativity; The Sudarium; and Portrait of Erasmus. The DAC's prints by artists associated with Dürer or his circle include works by Heinrich Aldegraver; Albrecht Altdorfer; Hans Baldung; Leonhard Beck; Hans Sebald Beham; Hans Burgkmair; Lucas Cranach; Augustin Hirschvogel; Hanns Lautensack; Hans Lemberger; Lucas Van Leyden; Israhel von Meckenem (Death of the Virgin after Dürer); Georg Pencz; Hans Leonhard Schäuffelein; Hans Springinklee; Tobias Stimmer; Wolf Traut; Hans Wechtlin; and Hans Weiditz.
Italian prints, 1470-1530
In addition to woodcuts for Colonna's Hypnerotomachia and other prints by anonymous artists, the DAC holds engravings by Zoan Andrea (Dancing Muses); Jacopo da Barbari; Nicolaus Béatrizet; Domenico Beccafumi; Bartolommeo Biscaino; Giulio di Bonasone; Giovanni da Brescia; Domenico and Giulio Campagnola; Gian Jacopo Caraglio; Nicolò della Casa; Marco Dente da Ravenna; Andrea Mantegna (Battle of the Sea Gods, Virgin and Child; Flagellation); Premier Engraver after Mantegna; Master of the Die; Benedetto Montagna; Agostino da Musi; Antonio di Jacopo Pollaiuolo (Battle of the Nudes, the artist's only print); Marcantonio Raimondi; Cristofano Robetta; Agostino Veneziano; and Enea Vico.
Chiaroscuro woodcuts
The chiaroscuro technique enabled woodcuts to emulate more closely the tonal gradations of wash drawings and watercolors. DAC holdings of works by artists who produced chiaroscuro woodcuts printed in colors from two or more blocks include unknown artists after Perino del Vaga and Ugo da Carpi; Andrea Andreani; Domenico Beccafumi; Antonio da Trento; Ludolph Büsinck; Bartolmeo Coriolano; Hendrik Goltzius; John Baptist Jackson; Christoffel Jegher; Paulus Moreelse; John Skippe; Giuseppe Niccolo Vicentino; Antonio Maria Zanetti; and others.
Italian prints, 1530-1640
Selected Italian artists working from 1530 to 1640 represented in the DAC Collection include Federico Barocci; Niccoló Boldrini; Domenico Bonavera; Simone Cantarini; Giulio Carpioni; Agostino Carracci; Annibale Carracci; Giorgio Ghisi; Martino Rota; Diana Scultori; and Giuseppe Scolari.
Northern prints, 1530-1640
Selected Northern artists from the early sixteenth century to the age of Rembrandt represented in the collection include Jost Amman; Hans Brosamer; Pieter Breugel; Jan de Bry; Allaert Claesz; Adriaen Collaert; Hans Collaert; Dirk Volkertsz Coornhert; Cornelis Cort; Frans Crabbe; Etienne Delaune; Jean Duvet; Allaert van Everdingen; Philip Galle; Jacob de Gheyn; Hendrik Goltzius; Hendrik de Goudt; Jean de Gourmont; Marten van Heemskerk; Hans Holbein; Daniel and Hieronymous Hopfer; Ludwig Krug; Johann Ladenspelder; Jan Lievens; Melchior Lorichs; Master LD (Leon Davent); Jacob Matham; Melchior Meier; Jan Harmensz Müller; Crispin van de Passe; Georges Reverdy; Peter Paul Rubens (St. Catherine, the artist's only print); Jan Pietersz Saenredam; Hans Sibmacher; Christoffel Van Sichem; Virgil Solis; Lucas Van Uden; Jean Viset; Hieronymus Wierix; and Pierre Woeiriot.
Prints by Rembrandt van Rijn
The 50 Rembrandt prints in the DAC Collection (all but four the gift of George Davison) represent the artist's career as a printmaker from the early 1630s until the time of his death. The collection's single most important work is Rembrandt's Three Crosses in a superb impression of the final state. Holdings include his self-portraits; religious themes (such as Angel Appearing to the Shepherds and Christ Presented to the People); landscapes (The Three Trees and Cottage Beside a Canal); genre subjects (Beggars Receiving Alms); and portraits (Clement de Jonghe). Complementing the DAC's representative holdings is comparative material in different states of certain images, copies, and posthumous printings (such as Baillie's reworked 100 Guilder Print), which offer rich resources for classes and individuals engaged in Rembrandt studies.