Photographs 1900-1950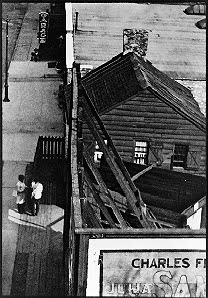 Paul Strand (American, 1890-1976), Photograph - New York, ca. 1917, photogravure (copy photo: Phil)
Photographs from the first half of this century include landmark prints by Atget; works by Stieglitz and his contemporaries; images by Lewis Hine and Berenice Abbott; a wide range of American and European modernist works; socially-committed Depression-era images; and holdings in photojournalism and street photography.
Eugène Atget
The DAC has 70 works by Eugène Atget (French, 1856-1927). These include a portfolio of 20 photographs printed posthumously by Berenice Abbott, and a probably unique collection of 50 prints which Atget compiled in a hand-made album, Interiors of Churches (Intérieurs d'églises) (an exhibition catalog on the topic of this album is available). Surviving examples of Atget's albums are extremely rare, most having been disassembled and the prints sold separately.
American Pictorialism, 1895-1910
Alfred Stieglitz, the leader of the Pictorialist movement, is represented in the DAC Collection by photogravures including The Steerage and Terminal, and by several issues of his publication Camera Work. Photographers in Stieglitz's circle are represented in photogravures by Prescott Adamson; James Craig Annan; Alvin Langdon Coburn; Robert Demachy; Frank Eugene; Frederick Evans; Herbert French; Gertrude Käsebier; George Seeley; and Clarence White. The collection also has pictorialist California landscapes of the 1920s by John Paul Edwards and Karl Struss.
Lewis Hine
Photographs by Lewis Hine (American, 1874-1940) in the DAC collection include Steel Worker, Empire State, as well as a group of 14 vintage photographs taken for the National Child Labor Committee. In the DAC archives are Hine's own identifications and descriptions of these subjects.
Berenice Abbott
Among the Davison Art Center's photographs by Berenice Abbott (American, 1898-1991) are 50 views of pre-Civil-War urban architecture, commissioned by Henry-Russell Hitchcock at Wesleyan in 1932. Many of these images are known only in prints at the DAC.
American Modernism
American modernist photographers represented in the DAC Collection include: Margaret Bourke-White; Wynn Bullock; Laura Gilpin; Harold Edgerton; Clarence John Laughlin; Helen Levitt (Children with Broken Mirror); George Platt Lynes; Barbara Morgan; Wendell Macrae (Burlington Zephyr); Wright Morris; Eliot Porter; Robert F. Sheehan (57 Cibachromes, printed from his 472 Kodachrome slides, 1949-55, in the collection, plus 129 black-and-white prints); Edward Steichen; Ralph Steiner; Paul Strand; George Tice; James Van Der Zee; Todd Webb; and Minor White. Photographers associated with the f/64 movement in California represented in the collection are: Ansel Adams; Imogen Cunningham; Sonya Noskowiak; Willard Van Dyke; Brett Weston; and Edward Weston.
European Modernism
Photographers represented in the DAC Collection who worked in Europe during the first half of the 20th century include John Heartfield (33 collotype photomontages); Heinrich Heidersberger; Jacmar (Swimmers); André Kertész; Camille Lacheroy (Composition with Tuna Cans); Werner Mantz; Man Ray; and August Sander.
FSA Photographs, 1935-1940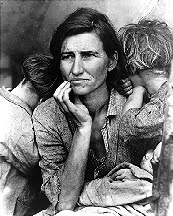 Dorothea Lange (American, 1895-1965), Migrant Mother, Nipomo, CA, 1936 (printed by Arthur Rothstein, 1976), gelatin silver print (copy photo: Phil)
Farm Security Administration photographers represented in the DAC Collection are: Jack Delano, Walker Evans, Dorothea Lange, Russell Lee, Carl Mydans, Arthur Rothstein, Ben Shahn, John Vachon, and Marion Post Wolcott (including a group of 8 Gee's Bend subjects on FSA exhibition mounts).
Photojournalism
The DAC Collection has special strengths in the area of photojournalism, including early examples by Thomas Annan; James Wallace Black (Franklin Street, Boston after the Great Fire), and Jacob Riis; by FSA artists cited above; and works by Margaret Bourke-White (Fort Peck and Roosevelt's Dressing Table, both for Life magazine); Alfred Eisenstadt; Orville Emmons; Gjon Mili; Gordon Parks; Eugene Richards; W. Eugene Smith; Lou Stouman (Times Square); Weegee (The Critic); Max Yavno; and war subjects by Robert Capa, Arthur Rothstein, Eugene Smith, Harvey Weber, and Larry Burrows.