American Drawings
American drawings in the DAC collection represent a wide range of artists including Whistler, Sargent, Vedder, Pennell, Mielatz, Kihn, Davis, Limbach, Dine, Birmelin, and Jacquette.
19th-Century American Drawings
19th-century American drawings at the DAC include The Faggot Carrier, an undated gouache by Edwin Austin Abbey (1852-1911); Study for the Cup of Love, 1887, charcoal and white chalk, by Study for the Cup of Love, 1887, in charcoal and white chalk by Elihu Vedder (1836-1923); three other studies for the same painting, and a nude study, ca. 1883, also by Vedder; and by James Abbott McNeill Whistler (1834-1903), Study in Lemon and Turquoise: The Japanese Dress, ca. 1888-90, in pencil, chalk, and pastel, as well as Whistler's Harmony in Flesh Color and Pink (study for Lady Meux), ca. 1881-92, pen and ink, and Sketch for the Arrangement of the First Venice Set, ca. 1879-80, in graphite.
Drawings by American artists active from the later 19th century into the early decades of the 20th century include 14 pen and graphite drawings executed by Joseph Pennell (1860-1926) from the 1880s to 1920; seven Charles Mielatz (1864-1919) drawings dating from the 1880s to 1911; a Maurice Prendergast (1859-1924) watercolor and pastel titled Landscape, New England, ca. 1912-14; and three studies by John Singer Sargent (1856-1925): Study for an Angel, ca. 1916, charcoal; Study of Drapery, charcoal; and Studies of Hands,charcoal.
20th-Century American Drawings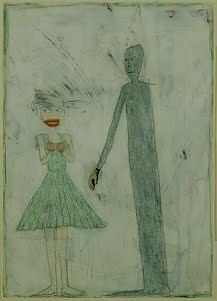 Melissa Stern (American, born 1958), Blind Date, 1992, chalk and oil pastel, graphite, and collage on paper prepared with gesso and paint (photo: R.J. Phil)
The DAC's drawings by 20th-century American artists include Head of a Man, ca. 1930, a gouache by Alfred Henry Maurer (1868-1932); Mrs. William Paisano: Ka-U-Tse, A Laguna Pueblo Indian, 1928, crayon, and 58 other crayon drawings dating from the 1920s and 1930s, representing Native Americans, by W. Langdon Kihn (1896-1957); Shapes of Landscape Space, ca. 1939, a gouache by Stuart Davis (1894-1964); 368 drawings, ca. 1928-70, by Russell T. Limbach (1904-1971); An Intelligent Woman, 1979, drawn in charcoal by Jim Dine (born 1935); Wind in the Plaza, 1982, in graphite by Robert Birmelin (born 1933); and the pastel Midwestern Springtime with Clouds II, 1983, by Yvonne Jacquette (born 1934). Other works including a preparatory drawing by Paul Landacre and finished drawings by Reginald Case, Stephen Fisher, Mark Sheinkman, Susan Schwalb, and Phyllis McGibbon.