Photographs before 1900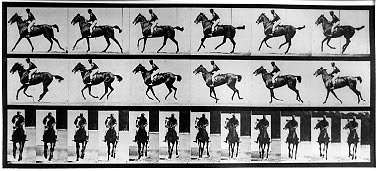 Eadweard Muybridge Annie G, 1885, albumen print (copy photo: Phil)
The DAC Collection includes monuments in the history of photography by such artists as Julia Margaret Cameron, as well as images such as Eadweard Muybridge's (American, born England, 1830-1904) documentation of Annie G with Jockey, Horse Cantering, an albumen print from Animal Locomotion, 1885 (above).
The DAC's approximately 3,000 early European, American, and Asian travel photographs include images by photographers such as Beato, Bonfils, Bourne, and Frith. Examples of early photographs comprise daguerreotypes, tintypes, cartes-de-visite, cabinet cards, hand-colored calotype and albumen-print stereos; calotypes by photographers including William Henry Fox Talbot and Calvert Jones; works by Disderi, Nadar, and Emerson; and photographs by Jackson, O'Sullivan, Watkins and other Americans. Some highlights include:
European and American Photographs, 1845-1865
Examples of early photographic works in the DAC Collection comprise more than 1,000 daguerreotypes, tintypes, cartes-de-visite, cabinet cards (some not yet cataloged at the item level), and hand-colored calotype and albumen-print stereos.
Calotypes (from paper negatives) in the collection include 3 dating about 1845 by the inventor of the negative process, William Henry Fox Talbot, and The Colosseum by Talbot's assistant, Calvert Jones. In the DAC are also a group of albumen-print portraits copied from daguerreotypes by the American firm of Albert Sands Southworth and Josiah Hawes.
Among holdings in early French photographers are works by André Disderi (Unknown Actors, an uncut carte-de-visite); Nadar (2 woodburytypes, including Georges Sand); Charles Famin and Eugène Cuvelier, both of whom worked in the Barbizon Forest; and C. Sauvaire & Charles Mauss (1 calotype on albumen paper).
The English Golden Age, 1855-1890
The DAC's holdings of mid- to late-19th-century English photographs include works by Julia Margaret Cameron (Angel at the Sepulchre, Cherub and Seraph, and 2 portraits of Lord Tennyson); Peter Henry Emerson (2 platinum prints from the Norfolk Broads group, and 60 photogravures); William Lake Price (Don Quixote, galvanotype); Oscar Rejlander (Charity); and Frank Sutcliffe (5, including a carbon print, Monday Morning, Whitby Harbor).
The American Scene, 1855-1890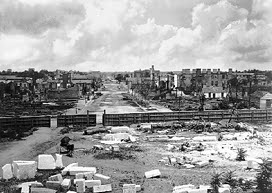 George N. Barnard (American, 19th century), Columbia from the Capitol, 1864, albumen print (copy photo: Phil)
American photographs from before 1900 include a portrait by Susan Macdowell Eakins; Civil War photographs by George Barnard and Alexander Gardner; photographs taken by William Bell (Perched Rock); Henry Hamilton Bennet (2 Dells of the Wisconsin subjects); Layton Alton Huffman; William Henry Jackson; Eadweard Muybridge (4 collotypes from Animal Locomotion); William Notman; Timothy O'Sullivan (28, including a complete set of works in a Wheeler Survey album, 1871-74); A.J. Russell; Charles Savage (9 views on and near the Columbia River); Lewis Wanamaker; and Carleton E. Watkins (4, including a mammoth-plate Yosemite view of Glacier Point, plus a group of stereos of San Francisco, Yosemite, and gold-rush subjects inscribed by the artist). Edward Curtis's native American subjects are supplemented by a complete set of his albums in Wesleyan's Olin Library.
Travel Photographs of the Victorian Era, 1855-1890
The DAC's collection of about 3,000 albumen-print views of scenery and people in England, France, Germany, Switzerland, Italy, Eastern Europe, the Scandinavian countries, West Asia and North Africa, India, China, Japan, and South Asia, includes works by the American Colony of Jerusalem firm; Felice Beato; Francis Bedford; Felix Bonfils; Samuel Bourne; Francis Frith (50 albumen prints of Egyptian subjects); Gulmez Frères (10 Turkish views); Kusakabe Kimbei; Knud Knudsen; Carlo Naya; Carlo Ponti; James Robertson (1 Crimean War subject); Pascal Sebah; Giorgio Sommer; John Thomson; James Valentine; George Washington Wilson; Zangaki; and many other known and unknown expeditionary photographers. Some travel subjects in the collection have not yet been cataloged in detail at the item level.