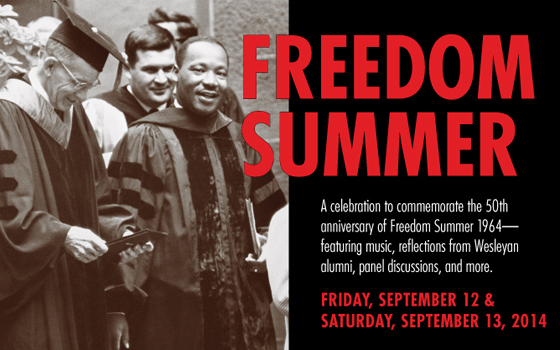 Freedom Summer Rolling Concert
Friday, September 12, 2014 at 6:00pm
Cross Street Dance Studio, Olin Memorial Library Steps, Memorial Chapel
FREE!
6pm
Location: Dance Department, Cross Street Dance Studio, 160 Cross Street
Performers: Unity Choir, Cross Street A.M.E. Zion Church
6:30pm
Location: Olin Memorial Library Steps, 252 Church Street
Performers: Middletown High School Choir and Wesleyan Singers
7pm
Location: Memorial Chapel, 221 High Street
Performers: Children's Choir of Cross Street A.M.E. Zion Church, Dar Williams '89, Kim and
Reggie Harris
Co-sponsored by the Center for African American Studies, Allbritton Center for the Study of Public Life, Olin Library and Special Collections, the Center for the Arts, the Office of Equity and Inclusion, Academic Affairs, Green Street Arts Center, and Cross Street A.M.E. Zion Church.
Image: On June 7, 1964, the Rev. Dr. Martin Luther King Jr. received an honorary degree and delivered the baccalaureate sermon at Wesleyan University. Shown here are Pres. Victor L. Butterfield and Dr. King, with Dr. King's friend and Wesleyan Prof. of Religion John Maguire behind them. Photo courtesy of Special Collections & Archives, Wesleyan University.