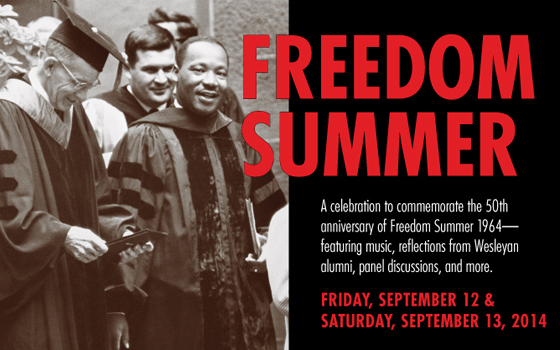 Freedom Summer Symposium
Saturday, September 13, 2014 at 1:30pm
Fayerweather Beckham Hall, 55 Wyllys Avenue
FREE!
1:30pm
Panel:
"Go South, Young Wes Men" - Freedom Summer 1964 and Wesleyan Student Activism
Panelists: Ron Young '86, John Suter '67, Stephen Oleskey '64
Moderator: Ashraf Rushdy, African American Studies Program and English Department, Wesleyan University
3pm
Panel:
Unwavering Courage - Civil Rights Activists of Freedom Summer
Panelists: Penny Patch, Muriel Tillinghast, Gwendolyn Simmons
Moderator: Anna Wasescha, President, Middlesex Community College
4:30pm
Keynote Lecture:
Freedom Summer 50 - Redressing State Violence
Margaret Burnham, Professor of Law and Founder of Civil Rights and Restorative Justice Institute at Northeastern University
Co-sponsored by the Center for African American Studies, Allbritton Center for the Study of Public Life, Olin Library and Special Collections, the Center for the Arts, the Office of Equity and Inclusion, Academic Affairs, Green Street Arts Center, and Cross Street A.M.E. Zion Church.
Image: On June 7, 1964, the Rev. Dr. Martin Luther King Jr. received an honorary degree and delivered the baccalaureate sermon at Wesleyan University. Shown here are Pres. Victor L. Butterfield and Dr. King, with Dr. King's friend and Wesleyan Prof. of Religion John Maguire behind them. Photo courtesy of Special Collections & Archives, Wesleyan University.