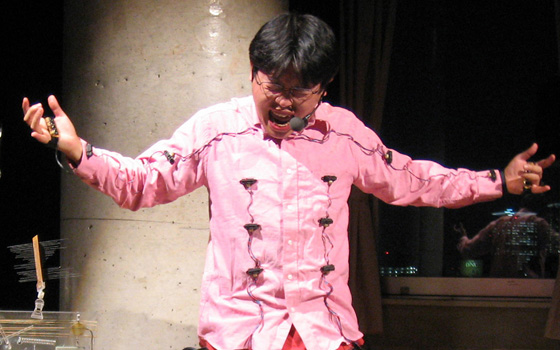 Tomomi Adachi
Thursday, October 9, 2014 at 8:00pm
CFA Hall
FREE!
Japanese vocal and electronics performer, composer, and instrument builder 
Tomomi Adachi
presents his wide-ranging activities in several short performances with special guest
Ayako Kataoka
: improvisation with self-made electronic/amplified instruments, extremely physical performance with original interfaces, pure vocal sound poems, and his new network-based vocal performance, reconstructing relations among voice, body, gesture and language in a technological environment.
Tomomi Adachi is a performer/composer, sound poet, instrument builder and visual artist. Known for his versatile style, he has performed his own voice and electronics pieces, site-specific compositions, improvised and contemporary music at Tate Modern, Maerzmusik, Centre Pompidou, Poesiefestival Berlin, Merkin Hall, Tempelhof Airfield, STEIM and Walker Art Center, working with Jaap Blonk, Nicolas Collins, Takahashi Yuji, Annette Krebs, Sakata Akira, Jennifer Walshe, Ichiyanagi Toshi, and Otomo Yoshihide.