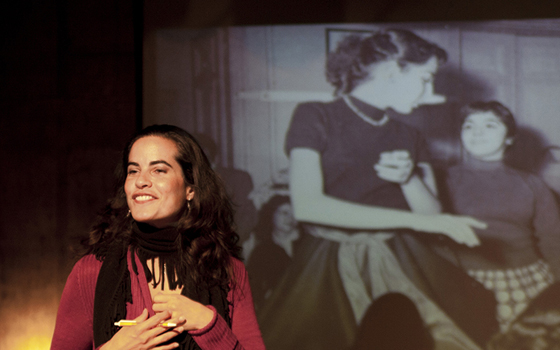 Hkeelee (Talk to Me)
Wednesday, October 29, 2014 at 7:00pm
CFA Hall
FREE!
Click here to view photos from this event.
Center for the Arts Engagment Intern Sharifa Lookman '17 talks to Leila Buck '99 on the Center for the Arts blog here.
"Memorably visceral."
—The New York Times review of performance by Leila Buck at New York Theatre Workshop

Written and performed by Leila Buck '99
Hkeelee (Talk to Me) is a personal and political exploration of family, memory, and what it means to be(come) American. Attempting to move her Lebanese grandmother into an assisted living facility in Washington, writer and solo performer Leila Buck '99 unpacks a suitcase of belongings, along with unpredictable waves of memories and stories.  Moving between her grandmother and herself, each character struggling to understand what it is she must remember, Ms. Buck invites the audience to participate in her struggle to piece together the remnants of her history, and with it their own.  Weaving traditional storytelling  with direct audience participation, Hkeelee is an interactive exploration of what we hold onto and what we let go, and how those choices come to shape who we are.
Hkeelee was featured in a workshop in July 2013 as part of Culture Project's Women Center Stage Festival in New York City, and has been developed with The Public Theater and Middle East America.
This event is part of Muslim Women's Voices at Wesleyan.