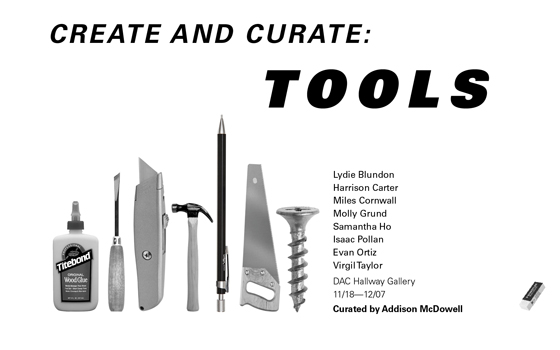 Opening Reception: Create and Curate—Student-Organized Exhibition
Tuesday, November 18, 2014 at 5:00pm
Davison Art Center, Hallway Gallery
FREE!
Opening Reception from 5pm to 7pm
The Friends of the Davison Art Center coordinate the second student-curated exhibition of work created by current students. Addison McDowell '16 will serve as curator, guided by Sasha Rudensky, Assistant Professor of Art and Friends of the Davison Art Center board member.

Featuring the work of Lydie Blundon '16, Harrison Carter '17, Miles Cornwall '15, Molly Grund '16, Samantha Ho '16, Isaac Pollan '15, Evan Ortiz '16, and Virgil Taylor '15.

Inspired by the works of Jim Dine in the Davison Art Center collection, the students investigated the theme of the artist's tool for this exhibition. Tools are objects that were created to be used, and for many, it would be impossible to make art without them.  Each tool contains the implication of human use: they were intended to work in our hand. Some tools have been refined through centuries of use and have incredibly economic, efficient forms. Others, by contrast, still have many quirks. New tools, particularly digital ones, can be incredibly difficult to learn and frustrating to use, but it may be all the more satisfying when fluency is achieved.

Eight student artists explored a wide range of tools from pencils and erasers to Photoshop and the printing press. Some studied the formal beauty of their object and immersed themselves in specificity: its form, function, and manner of use. Others considered their tool as a departure point for a broader meditation on the themes of alteration, control, and influence. Still others used their tool as an entrance to the historical practice of creation.

On display through Sunday, December 7, 2014.

Gallery open Tuesday through Sunday from Noon to 4pm.

Closed Tuesday, November 25 through Monday, December 1, 2014.