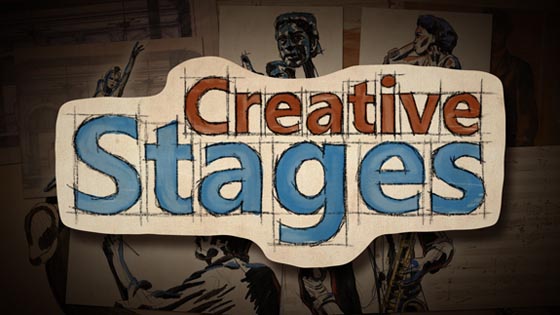 Creative Stages
Friday, November 28, 2014 at 8:00pm
CPTV

FREE!
Saturday, December 20, 2014 at 4:30am
CPTV

FREE!
Sunday, December 21, 2014 at 1:30pm
CPTV

FREE!
Connecticut Public Television (CPTV) premieres the original documentary Creative Stages, hosted by Ed Wierzbicki. This half-hour special is devoted to the arts, as Mr. Wierzbicki takes viewers "inside the creative process" while interviewing Connecticut artists and exploring local arts organizations.
Creative Stages begins with a profile of singer-songwriter and Connecticut resident Javier Colon, winner of the first season of NBC's The Voice. Mr. Colon sits down with Mr. Wierzbicki to discuss his inspiring journey, which led him from the simple dream of making "music that matters" to success and fame. He also talks about his personal creative process, explaining how he writes his songs, and speaks about his deep-rooted connection to the Nutmeg State and his commitment to educating and inspiring Connecticut youth.
Mr. Wierzbicki then takes a trip to the Yale University Art Gallery to meet acclaimed artist Red Grooms and view some of his colorful, giant-sized canvases, which were recently featured in the gallery's Red Grooms: Larger than Life exhibition. Mr. Grooms reflects on the process and history behind his work, and gives viewers insights into some of his well-known paintings.
The Palace Theater in Waterbury is Mr. Wierzbicki's next stop. Learn about the history of the theater (a Brass City fixture for more than 80 years), and about the theater's renovation and restoration – and the importance of that "makeover" to the Waterbury community. Plus, discover how the theater is impacting local young people through its unique partnership with the Waterbury Arts Magnet School.

Finally, explore Wesleyan University's Center for the Arts in Middletown. Celebrating its 40th anniversary during the 2013-2014 season, the CFA hosts groundbreaking experimental artists and performers from around the world. Hear from Pamela Tatge, Director of the Center for the Arts, as well as from visiting artists including Margaret Jenkins (Artistic Director of San Francisco's Margaret Jenkins Dance Company), Anna Snow, Kerry Andrew, and Sarah Dacey of London's Juice Vocal Ensemble, and Juliana Romano '04 (featured in the exhibition The Alumni Show II in the Ezra and Cecila Zilkha Gallery), about the importance of this creative space to Wesleyan University and its students, as well as to the art world at large. The segment also includes footage of Liz Lerman Dance Exchange's Ferocious Beauty: Genome, the Wesleyan Theater Department production of The Seagull, and a co-taught course by Professor of History and East Asian Studies William Johnston and Visiting Artist in Dance and the College of East Asian Studies Eiko Otake.

To close the program, the Haven String Quartet is featured in a short performance sampler from a previous concert at New Haven's Lyric Hall.

"Ed Wierzbicki brought the concept for Creative Stages to me while he was working on his Spotlight on the Arts video series," said CPTV Executive Producer Jennifer Boyd. "With the help of editor Larry Roeming and motion graphics artist Sam Hockaday, Ed spent long days creating an incredible show. The result is a program devoted to the rich, creative diversity that exists within our state. This show is lively, entertaining and a rare opportunity to celebrate the important artistic work being created in our state on a daily basis."

About Connecticut Public Television
CPTV is a media service of the Connecticut Public Broadcasting Network (CPBN). CPTV is a locally and nationally recognized producer and presenter of quality public television programming, including original documentaries, public affairs shows, and educational programming. CPTV has built a reputation as a leader in children's programming, including playing an historic role in bringing Barney & Friends™, Bob the Builder™, and Thomas & Friends™ to public television. The station offers 11.5 hours of positive, nurturing children's programs each weekday, reaching 450,000 households each week.
The Connecticut Public Broadcasting Network also includes
WNPR
, an affiliate of
National Public Radio
,
Public Radio International
, and
American Public Media
. WNPR serves 276,000 listeners weekly in Connecticut, New York, and Rhode Island with news and information. Its award-winning local programming includes
The Faith Middleton Show, The Colin McEnroe Show
, and
Where We Live
. CPBN also includes two affiliate channels:
CPTV4U
, a 24/7 television channel featuring award-winning drama, news and talk programming, concert performances, independent films, nature shows, British comedy, and more; and
CPTV Sports
, Connecticut's only 24-hour local sports network, covering statewide high school, college, semi-professional, and professional sports. CPBN also houses the
Learning Lab
, home to the
Journalism & Media Academy Magnet School
satellite campus and the
Veterans Vocational Training Program
. For more information, please visit
CPTV.org
.
WNPR is a media sponsor of Wesleyan University's Center for the Arts.