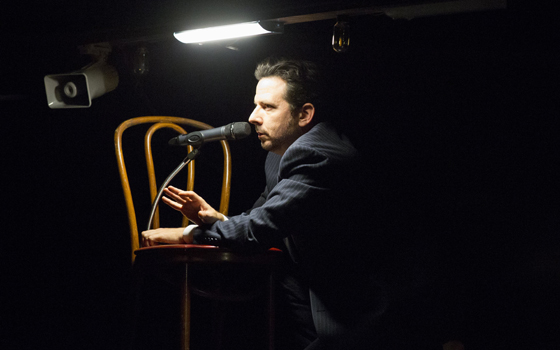 Lucidity Suitcase Intercontinental: 17 Border Crossings
Saturday, February 21, 2015 at 8:00pm
CFA Theater
$19 general public; $17 senior citizens, Wesleyan faculty/staff/alumni, non-Wesleyan students; $6 Wesleyan students
Click here to view photos from this event.
CFA Arts Administration Intern Chloe Jones '15 talks to writer, director, and performer Thaddeus Phillips of Lucidity Suitcase Intercontinental about the Connecticut premiere of his solo theater work 17 Border Crossings on the Center for the Arts blog here.
Lucidity Suitcase Intercontinental develops original theater works using creative structures, objects, found and original texts, and extensive travel. Collected over fifteen years, 17 Border Crossings (2011) weaves together real adventures into a dramatic, visual, and surreal examination of imaginary lines, arbitrary passports, and curious customs. Written and directed by Thaddeus Phillips and based on his actual experiences, this deceptively simple solo work takes audiences to the frontiers of Angola, Austria, Bali, Bosnia, Brazil, Canada, Colombia, Croatia, Cuba, Czech Republic, Egypt, Hungary, Israel, Italy, Jordan, Mexico, Morocco, Palestine, Serbia, the United Kingdom, and the United States.
There will be a post-performance discussion with Thaddeus Phillips.

The performance style begins as a classic monologue told from a desk and chair, but quickly morphs into its own skin, which draws inspiration from standup comedy, the Balkan films of Emir Kustarica, the floor shows of the Tropicana in Havana, musicals about Austria, cheap magic, Native myths from the Amazon jungle, and Chilli Relleno recipes.

"Many of these stories are funny, because Phillips is funny, and because the terror of being held and questioned and yelled at in a language that is not your own is very funny once you are safe at home. And many of these stories are tinged with sadness, with the stupidity of humanity, with the foolish destruction our obsession with separation has caused. And many of these stories are both, uproariously funny and strikingly sad."
—Staged Magazine, Philadelphia

"The scene design is stripped of almost every element and bets on simple elegant ideas using only light and space. A bar with flourescent lights descends and ascends, reinventing the space to become a row of train compartments, a ferry, a chairlift, and various borders. Once you catch on to this code, the work grabs you with its intelligence, humor, sarcasm, political critique - all the way until its moving finale."
—El Heraldo, Zaragoza, Spain

An Outside the Box Theater Series event presented by the Theater Department and the Center for the Arts.