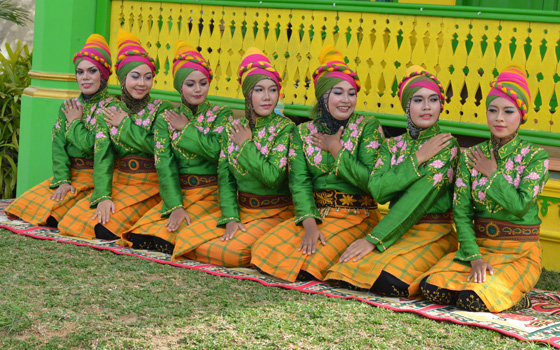 Panel Discussion: Expressing and Contesting Indonesia-Islam Encounters in Performing Arts - Dance and Music in Aceh
Wednesday, February 25, 2015 at 4:15pm
CFA Hall
FREE!
Click here to view photos from this event.
Organized and moderated by University Professor of Music Sumarsam, this panel will discuss performing art as a space for expressing Indonesia-Islam encounters. In response to many recent contestations of the value and meaning of these encounters, such as the birth of new laws and their affect on cultural policy, there has been a renewed focus on discourses of representation and identity. In this regard, performing arts in Aceh have become resilient and thriving markers of local and national identity. The panel will discuss these issues through the lenses of history, socio-political contexts, and performing arts as representation of a conscious reconstruction of identity.

Ari Palawi, Program Development Coordinator at the Center for the Arts at Syiah Kuala University, Banda Aceh, Indonesia, and a Ph.D candidate at Monash University, Australia, will present the talk "The Aceh Musical Arts in the Context of Local Adat and Worldviews."

Rachmi Diyah Larasati, Associate Professor and Director of Dance, Theatre Arts and Dance, University of Minnesota, Twin Cities, will present the talk "Crossing the Forest, the Land and the Sea: Performances, Islam and Indigeneity (An Inquiry of Dialectic Presence)." Ms. Larasati previously gave the annual Dr. Cynthia Novack Lecture in World Music Hall in May 2013, part of a celebration honoring decades of Javanese dance at Wesleyan including a tribute to Urip Sri Maeny.

Eka Srimulyani, Lecturer on the Faculty of Arts and Humanities at Islamic State University of Ar-Raniry, Banda Aceh Indonesia, and Senior Researcher at the International Centre for Aceh and Indian Ocean Studies, will present the talk "Public Space and Dance in Contemporary Acehnese Society: Artistic Performance and Religious Perspectives Contested."

The panel discussion will be followed by an informal presentation of the music and dance of Indonesia.

This event is part of Muslim Women's Voices at Wesleyan.