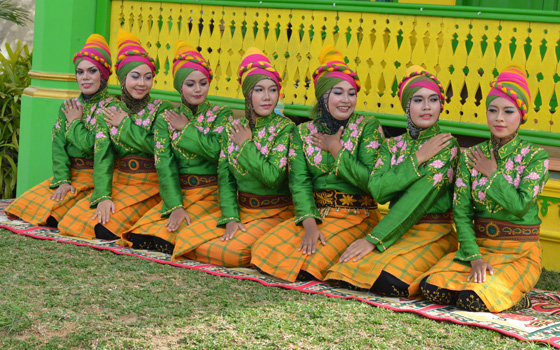 Tari Aceh! Music and Dance from Northern Sumatra
Friday, February 27, 2015 at 8:00pm
Crowell Concert Hall
$22 general public; $19 senior citizens, Wesleyan faculty/staff/alumni, non-Wesleyan students; $6 Wesleyan students
Click here to view photos from this event.
Pre-performance talk by Wesleyan graduate student Maho Ishiguro and Ari Palawi, Program Coordinator, Syiah Kuala University's Center for the Arts, at 7:15pm.

CFA Arts Administration Intern Chloe Jones '15 talks to graduate student Maho Ishiguro about "Tari Aceh!" on the Center for the Arts blog here.
Dine/Dance/Discover at 5:30pm in Fayerweather Dance and Theater Studios (SOLD OUT).
The Connecticut premiere of Tari Aceh! (Dance Aceh!) features a group of nine female performers from Aceh, Indonesia on their first-ever tour of the United States. Their dances, inherited from their ancestors, are stunning in their synchronicity and include rhythmic body percussion and the singing of both Islamic liturgical and folk texts, accompanied by percussion. The dancers are between the ages of 14 and 24, and study at Syiah Kuala University, located in Banda Aceh, the capital of the Aceh province on the western Indonesian island of Sumatra. 

There will be a post-performance reception in the lower lobby of Crowell Concert Hall.
The dances are some of the best illustrations of the trans-cultural blending of Islamic and Indonesian culture.  Originally performed by men, the dances were taught to women in the 20th century and in some districts are forbidden. 



A Breaking Ground Dance Series event presented by the Dance Department and the Center for the Arts. Presented in association with the Asia Society, New York.
This event is also part of Muslim Women's Voices at Wesleyan as well as the Performing Arts Series.

Funded in part by the Expeditions program of the New England Foundation for the Arts, made possible with funding from the National Endowment for the Arts, with additional support from the six New England state arts agencies.